Stellantis takes $3 billion revenue hit from UAW strikes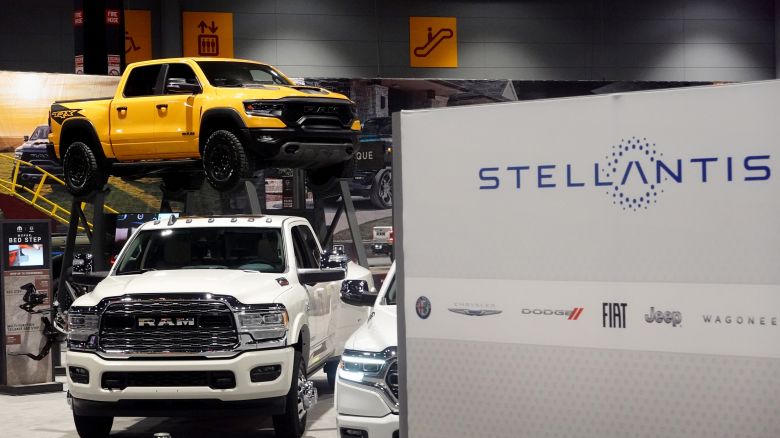 A historic strike by autoworkers in North America reduced Stellantis' revenue by €3 billion ($3.2 billion), the company reported Tuesday, but it added that the strike and the cost of new labor contracts won't prevent it from hitting its profit target.
Despite reaching a tentative agreement with the UAW union on Saturday, production and sales were impacted by the nearly seven-week strike.
During the July-September period, Stellantis' revenue increased 7% over the same quarter in 2022 to €45.1 billion ($48 billion). In the quarter, more than 1.4 million vehicles were shipped, an increase of 11% over 2022.
The company's North American sales and revenue increased modestly. In the quarter, vehicle deliveries increased 6.6% to 470,000 vehicles, but North American revenue increased only 1.9% to 21.5 billion euros, or $22.9 billion. As a result of the UAW strike, about 50,000 fewer vehicles were sold in September and October, according to Natalie Knight, the company's chief financial officer.
Sales of electric vehicles increased 37% over the previous year, boosted by the Jeep Avenger and the Citroen Berlingo. Since the company has yet to introduce a pure electric vehicle in North America, it sells most of its EVs in Europe.
Stellantis said it remains on track to achieve a 10% adjusted operating profit margin for the year. The company set the same goal when it reported first-half profits in July.
Stellantis now faces a possible recession in Europe, which accounts for 40% of its sales, making it the company's largest market despite the cost and disruption caused by the North American strikes. Compared to the previous three months, the gross domestic product of the 20 euro-using countries fell 0.1% in the July-to-September period.