Spanish Football Federation regional presidents call for resignation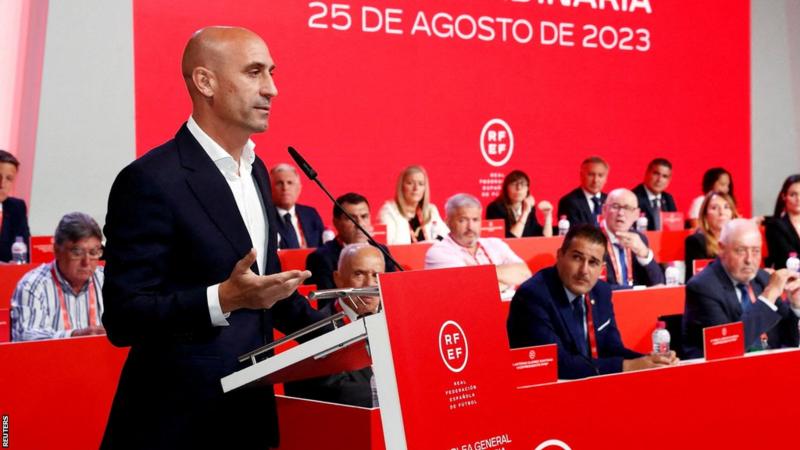 After Spain's Women's World Cup victory, Rubiales, 46, has been widely criticized.
She said the kiss on her lips was not consented to.
Prosecutors in Spain opened a preliminary investigation into whether the incident constituted a crime of sexual assault.
On Monday, Rubiales' mother Angeles Bejar went on a hunger strike in protest of her son's treatment in a Spanish church. Protests called by feminist groups in support of Hermoso and against Rubiales gathered hundreds of people in Madrid's center in the evening.
World football's governing body Fifa suspended Rubiales on Saturday, a day after he insisted he would not resign and claimed the kiss was "mutual and consensual".
Following an extraordinary meeting of the RFEF's regional presidents on Monday, the federation (RFEF) announced in a statement that Luis Rubiales should resign as president immediately as a result of recent events and the unacceptable behavior that has seriously damaged Spanish football's image.
Additionally, the presidents unanimously backed interim RFEF chief Pedro Rocha and called for an overhaul of the federation's management.
We will urge the relevant authorities to implement a profound and immediate restructuring of the federation to make way for a new era in the management of Spanish football."
Announcing Rubiales' suspension on Saturday, Fifa instructed him and the RFEF not to contact Hermoso, whom the RFEF had threatened with legal action earlier in the day.
Spain's Sports Tribunal (TAD) met on Monday to discuss the Spanish government's request to suspend Rubiales, with a decision still pending.