Lawyer who called Pakistan army 'terrorists' re-arrested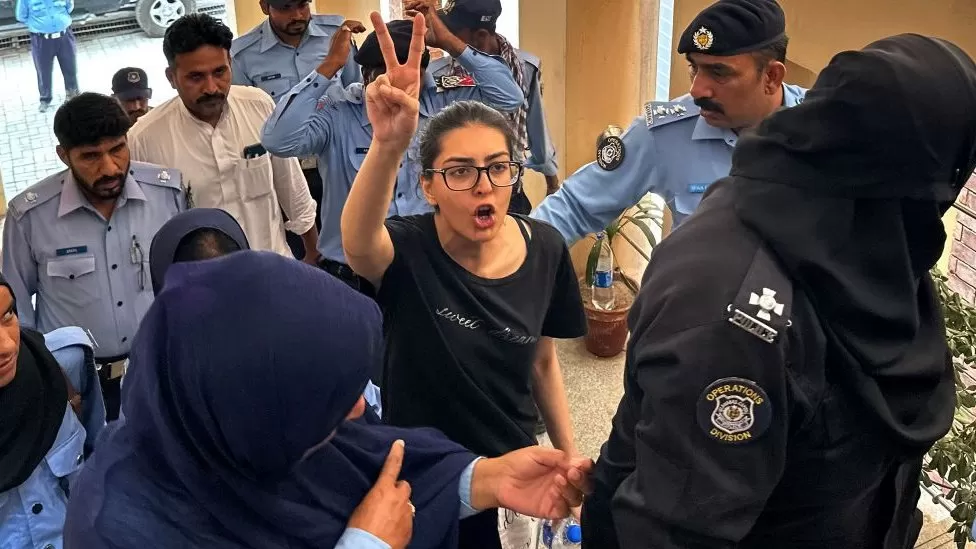 After being detained on a second terrorism charge, Imaan Mazari-Hazir was due for release on Monday night.
A week ago, she was arrested, prompting widespread criticism.
After crowds protested Imran Khan's arrest in May, analysts say there has been an increase in crackdowns.
A gross overreaction has occurred to the events of 9 May. However, the establishment does not wish to be perceived as solely focused on Mr Khan's Pakistan Tehreek-e-Insaf [PTI] party. Therefore, they are targeting different sections of society now," prominent journalist Cyril Almeida
Ms Mazari-Hazir's second charge was not immediately clear. A video shows her being arrested outside Adiala jail in Islamabad, where she is on judicial remand.
Zainab Januja, her lawyer, said police did not provide her with a copy of the charges against her or a warrant for her arrest.
"They told us there was another case against her at a different police station," she said. "We do not know why and in which case she has been arrested. The police will present her in court within 24 hours to get remand.
Recently, several PTI members have been re-arrested after posting bail.
On 18 August, Ms Mazari-Hazir was detained two days following a rally organized by the Pashtun Tahafuz Movement (PTM) rights group. Her speech, widely shared on social media, strongly criticizes the military for alleged abductions, a charge the army has always denied.
While the real terrorists are sitting in GHQ [Pakistan's military headquarters], you are being treated as if you are terrorists. As soon as Ms Mazari-Hazir was taken into custody, she posted on X (formerly known as Twitter) that "unknown persons" were breaking down the security cameras in her house.
According to Shireen Mazari, security officials ignored arrest warrants and legal procedures.
According to Ms Mazari, who served as the country's human rights minister under Imran Khan, the police broke into her daughter's room, confiscated her phone and laptop, and forcibly removed her.
She told them the next day that they didn't even let her change out of her nightwear.
A former lawmaker and co-founder of PTM rights group Ali Wazir was also detained by police in Islamabad.
They were later charged with sedition and terrorism in an anti-terrorism court. They have been accused of propagating anti-state messages by the police.
Immediately before her transfer to prison, Ms Mazari-Hazir rushed to her visibly distressed mother and hugged her tightly. "I cannot even imagine the results of such speeches. Pakistan is a nuclear power. How can someone say that the commander or chief of the army is involved in terrorism?"
Many observers, however, view these arrests as part of a larger campaign to suppress military critics.
The arrests were described as attempts to suppress dissent by Human Rights Watch in a statement last Thursday.
Pakistani authorities have used vague, overboard anti-terrorism laws to stifle dissent by arresting Imaan Mazari and others.
There was also a strong reaction on social media.
Sociology professor and human rights activist Nida Kirmani spoke out against the "harsh" arrests.
Both Ms Mazari-Hazir and Mr Wazir had been "unfairly targeted" for exercising their freedom of speech.
Ms Mazar's re-arrest after being granted bail did not surprise her, she told the .
At the moment, the security state is hyper-paranoid and insecure, which is increasing its ability to abuse human rights. "The tolerance for dissent had already been low, but now it is non-existent." Mr Almeida says Pakistan's situation is "just as bad as some of the worst times".
According to him, tactics used to suppress dissent in formerly federally administered tribal regions and Balochistan province are now being applied more centrally.
As the crackdowns intensify, Pakistan is being governed by a caretaker government widely perceived to have strong ties to the military.
During the last two years, Pakistan has experienced great political turmoil, economic instability, and rising security concerns.
People were looking forward to a new election to bring some stability amid all these crises.
The polls, which were scheduled to take place this autumn, may now be postponed, causing many to be concerned about Pakistan's democratic future.