Sergino Dest US defender apologizes for red card in loss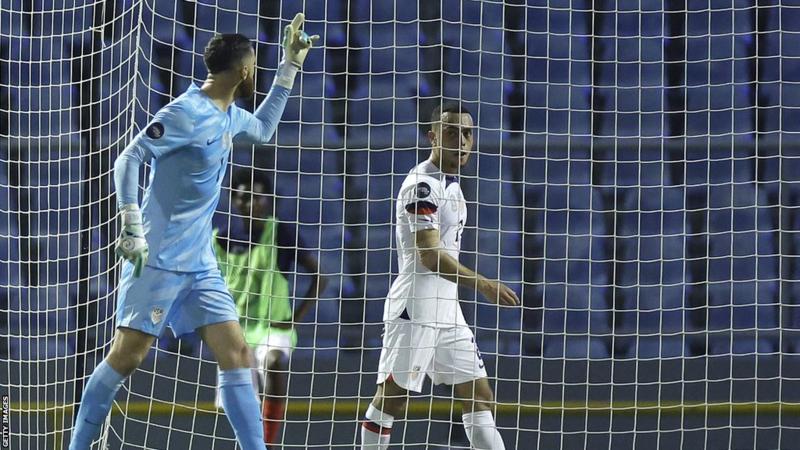 Sergino Dest US defender apologizes for red card in loss to Trinidad and Tobago after criticism from his team-mates and coach.
During the 2-1 loss in the second leg of the Concacaf Nations League quarter-final, the full-back was booked twice in 30 seconds.
Dest's actions were deemed "inexcusable" by head coach Gregg Berhalter, while captain Tim Ream referred to Dest's disrespectful behavior.
According to Dest, his behavior had been "unacceptable, selfish, and immature".
After winning the first leg 3-0 last week, the US advanced to the semi-finals 4-2 on aggregate and have secured their place at next year's Copa America.
In Port of Spain, the US led in the 25th minute thanks to Antonee Robinson, who scored before 23-year-old Dest was sent off for a second yellow card 14 minutes later.
Referee Walter Lopez initially booked him for kicking the ball away before issuing a second yellow for sarcastically kissing the referee while shouting and berating him.
Alvin Jones' free-kick in the 57th minute secured the win for the home team after Reon Moore equalized in the 43rd minute.
In this weather, [Dest] put a number of guys at risk and forced them to do a lot of extra work," Berhalter said.
The fact that that is what we want to represent, that is not who we are as a group, is concerning.
Regardless of good or bad decisions, we pride ourselves in staying mentally disciplined.
Sergino responded in an inappropriate manner, and that was obviously not the right response."
Dest was shouted at by Fulham goalkeeper Matt Turner and Fulham defender Ream as he trudged off the pitch.
The full-back has been referred to as "choice words" by Ream in the dressing room after the match. The full-back is on loan from Barcelona at PSV.