Golden State Warriors beat Houston Rockets to end losing streak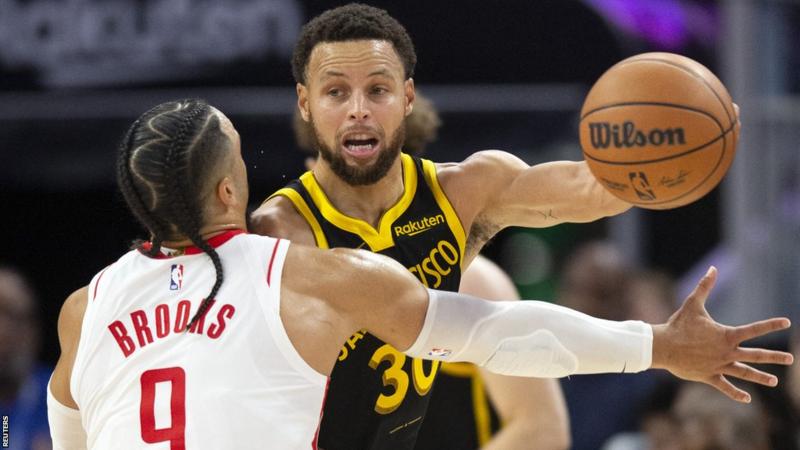 Golden State Warriors beat Houston Rockets to end losing streak Stephen Curry helps Golden State Warriors to end losing streak.
It was Curry's 32 points that helped the Golden State Warriors defeat the Houston Rockets, 121-116, and end a six-game losing streak.
The Rockets lost their fifth road game of the season thanks to five three-pointers by Curry and Klay Thompson.
Since Draymond Green started serving a five-game suspension, the Warriors have not won in three matches.
Giannis Antetokounmpo led the Milwaukee Bucks to a 142-129 victory over the Washington Wizards on Monday.
With 42 points, 13 rebounds, and eight assists, Antetokounmpo made 20 of 23 shots.
In a 107-103 win over the Detroit Pistons, the Denver Nuggets overcame the ejection of two-time Most Valuable Player Nikola Jokic and coach Michael Malone.
After giving up two technical fouls in the first half, Jokic exited the game. Malone was ejected late in the first quarter after disputing a call.
While the Pistons dropped their 12th straight game, Reggie Jackson led the defending champions with 21 points.
During the Spurs' ninth consecutive loss, the number one draft pick Victor Wembanyama was limited to nine points by the Los Angeles Clippers, defeating them 124-99.
A 23-point performance from Bam Adebayo and 22 points from Duncan Robinson helped the Miami Heat defeat the Chicago Bulls 118-100.
A 129-93 victory over the Sacramento Kings was powered by Brandon Ingram's 32 points, including all five three-pointers he attempted.