Saga cruise ship Spirit of Discovery in UK after Bay of Biscay storm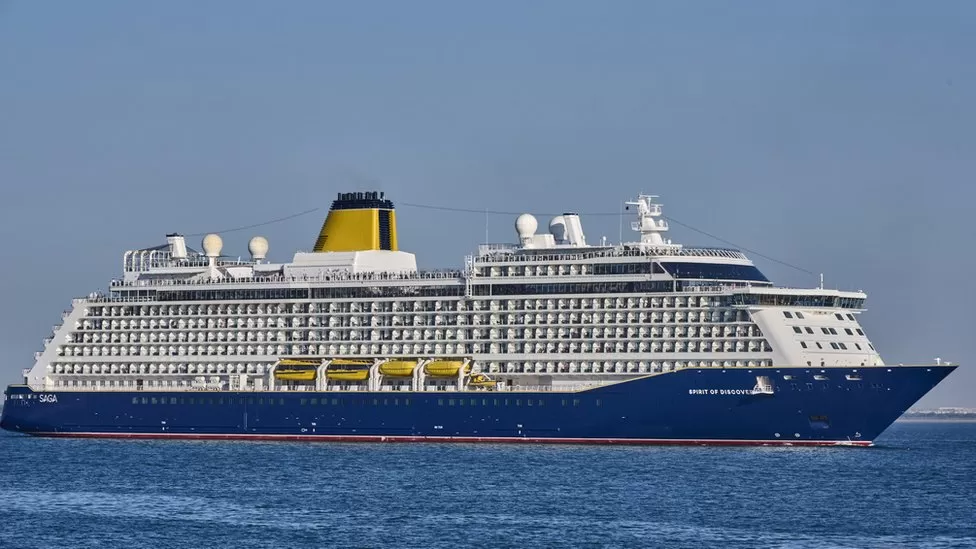 The cruise ship has returned to the UK after 100 passengers were injured in a storm off the western coast of France.
During a safety manoeuvre in the Bay of Biscay, the Spirit of Discovery veered to one side due to bad weather.
It is believed that most of the injuries were minor, but five people required medical treatment, according to Saga Cruises.
On Tuesday morning, passengers disembarked from the ship after it docked in Portsmouth on Monday night.
We are hoping to reach the Canary Islands by the end of the year. On 24 October, the ship left with approximately 1,000 people on board.
During the first 10 days of the planned 14-day cruise, Las Palmas was the final destination.
Despite warnings of an impending storm, the crew instead headed to A Corua in north-west Spain.
Due to a closed port, the decision was made to return to the UK early in order to avoid the weather.
While in the Bay of Biscay, a notoriously rough area for boats, a storm hit and the ship's safety system kicked in, causing it to abruptly veer left.
The majority of the injuries were sustained during this manoeuvre, a Saga spokesperson reported.
On Monday night, the ship returned to Portsmouth after remaining stationary for a few days until conditions improved.
It is mostly up to passengers to decide if they want to go to hospital for further treatment, with only two or three people expected to need it.
There was no danger to the ship at any time, according to Saga.
Although the weather is beyond our control, we want to extend our sincere apologies to all those affected, who are now safely back home with calmer waters.