Ryan Higgins steadies Middlesex at rain-hit Trent Bridge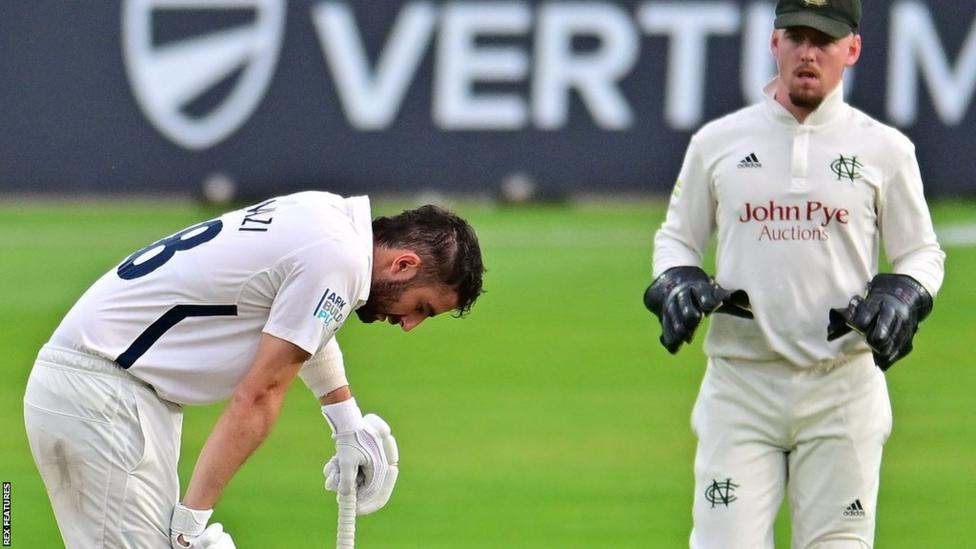 To avoid joining Northamptonshire in Division Two next year, Middlesex must better Kent's result at Canterbury or match it with at least one more bonus point.
Roland-Jones' decision to bat first might have surprised some, considering the team has only won two batting bonus points this season.
After rain delayed the start at Trent Bridge, he might argue that his players are at least close to the four-an-over run rate required.
The question is whether they can convert that into substantial points, especially after Stevie Eskinazi was hit in the head by Lyndon James on 23 and deemed unfit to continue. In day two, it will be crucial that the unbroken partnership between Ryan Higgins (60) and John Simpson (26), worth 69, turns into something substantial.
In the morning, Nottinghamshire announced the departure of Jake Ball, their 32-year-old former England fast bowler, who has played only a few Championship matches in recent seasons because of recurrent injuries.
With Nottinghamshire already assured of remaining in Division One next season, Ball was able to make his first appearance since July in place of Asitha Fernando, who was ill.
With Olly Stone and Luke Fletcher also sidelined, he took the new ball alongside Brett Hutton, the mainstay of Nottinghamshire's attack this year.
Both openers for Middlesex were removed in consecutive overs after neither batted particularly well.
Hutton straightened one to dismiss Mark Stoneman lbw for the county's 204th first-class wicket. Ball drew an edge from Sam Robson for his 204th first-class wicket.