Race against time to save survivors buried in rubble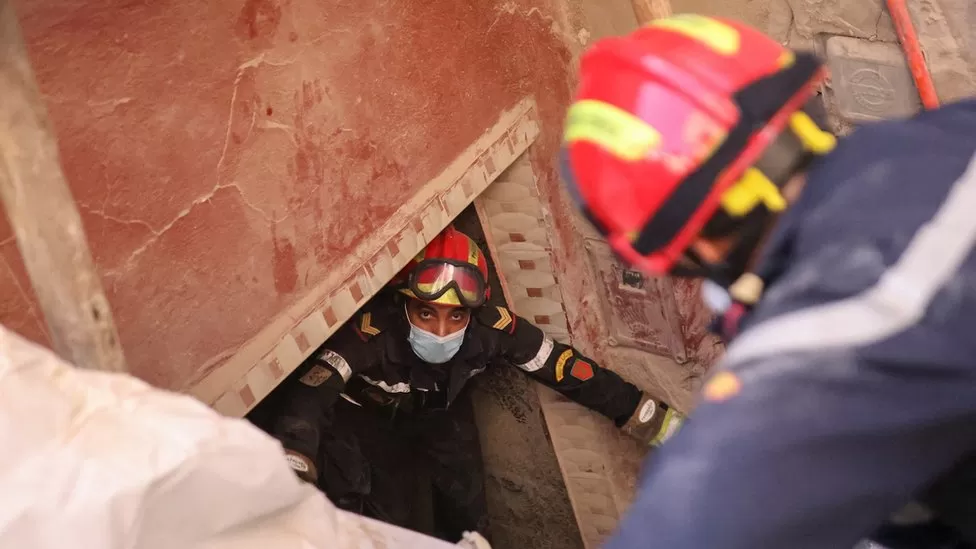 As response teams struggle to bring in machinery, villagers dig by hand and shovel to find survivors.
The same tools may now be needed to prepare graves for some of the thousands who died in the earthquake.
"People have nothing left," a villager said. "People are starving. Children need water. Help is needed."
A deadly earthquake hit beneath a cluster of mountainous villages south of Marrakesh on Friday, the country's deadliest in more than 60 years.
At least 2,122 people were killed and more than 2,421 injured, many critically.
Buildings as far as the northern coast of the country were swayed by the 6.8-magnitude tremor.
The old city of Marrakesh, a Unesco World Heritage site, was damaged. The small town of Amizmiz, in a valley in the mountains about 34 miles (55km) south of Marrakesh, has been reduced to rubble by the fire.
There is no one at the local hospital and it is deemed unsafe to enter. Instead, patients are treated in tents on hospital grounds, but staff are overburdened.
On Saturday, around 100 bodies were brought to the hospital, according to an unnamed hospital official.
"There were so many dead people, especially young children," he said. We haven't slept since the earthquake. Neither have I."
The streets surrounding the hospital are clogged with rubble from destroyed buildings, heavy traffic, and people who have lost everything.
In grief, a woman wails and is held by those around her.
People who have lost their homes have more tents along the roadside, but not everyone has them.