Putin opponent in isolation cell in Siberian jail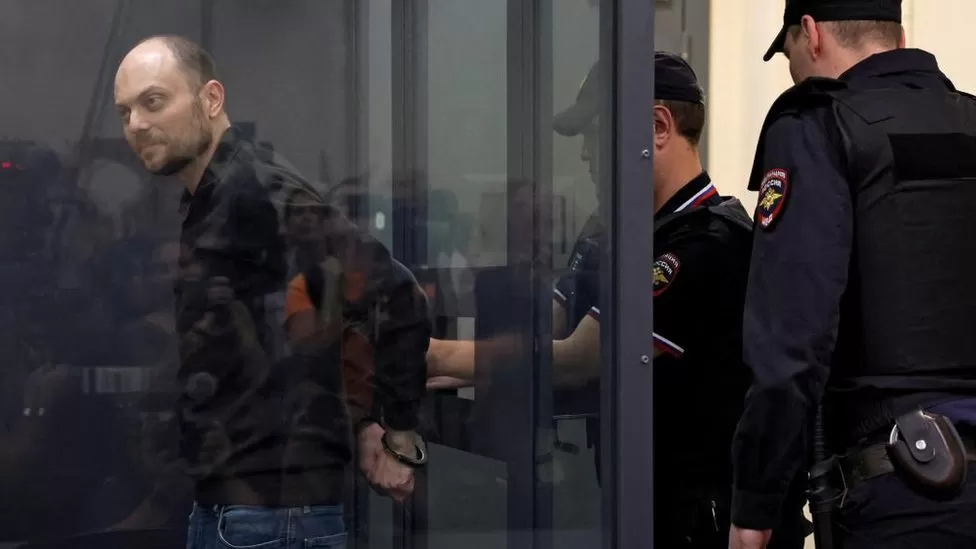 Jailed Russian opposition activist Vladimir Kara-Murza has been moved to a maximum-security prison in Siberia, several weeks after he was taken from a Moscow detention centre.
In Omsk penal colony, he was placed in an isolation cell, according to his lawyer.
Having survived two poisonings since 2015, Mr Kara-Murza was jailed for 25 years in April on treason and lying charges.
According to his lawyer, the conditions in Omsk were dangerous to his client's health.
He had been missing for several weeks, and his whereabouts remained unknown.
According to the charges, he denounced Russia's invasion of Ukraine in a speech to the Arizona House of Representatives.
In recent years, his sentence has been the longest against a Russian opposition figure.
According to his lawyer, Vadim Prokhorov, Kara-Murza arrived at IK-6, a maximum security prison, last week.
"He was immediately placed in an isolation cell," he said.
Considering the poisoning attempts his client has attributed to the Kremlin, such treatment would be detrimental to his health.
According to his lawyers and family, the attempts on his life have left Mr Kara-Murza with polyneuropathy, a nerve disorder.
Throughout his career, he has advocated Western countries imposing sanctions on Russian officials. Defending himself against the charges, he described them as punishment for standing up to President Vladimir Putin.
The distance between Omsk and Moscow is approximately 2,700 kilometers (1,670 miles). The Russian penal system often takes weeks to move prisoners from jail to jail by rail, and their whereabouts are often unknown.