Putin meets Prigozhin to grips with latest twist in Wagner saga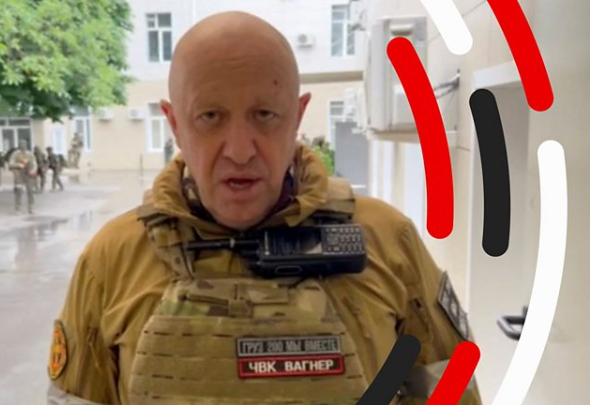 Getting to grips with Wagner saga's latest twist: Putin meets Prigozhin
The Kremlin has revealed that Vladimir Putin met Yevgeny Prigozhin five days after the Wagner mercenary boss led a failed mutiny. This week's Wagner saga reaches a new level, according to the BBC's Russia Editor.
I'd like to clarify something.
Vladimir Putin accused the Wagner leadership of "treachery" and "a stab in the back" on the morning of 24 June, the day of the mutiny. A Wagner fighter shot down two Russian pilots later that day, killing them.
With the mercenaries just 200km (120 miles) from the Russian capital, the Kremlin and Wagner struck a deal. It was the end of the mutiny. Nobody was arrested. There has been no prosecution.
It has now been revealed that Yevgeny Prigozhin was not only not ironed and hauled off to the police station for his rebellion, but five days later he was sitting around the Kremlin table chatting with President Putin along with his commanders.
Another twist and turn in a story that already surpasses Dostoyevsky in surprises and mystery.
But we don't know what was said at that meeting or how it ended. Based on what's happened since, this wasn't a "kiss and make up".
Russian state media have been working overtime to discredit Mr Prigozhin in recent days.
Photographs allegedly taken during the raid on his St Petersburg mansion were leaked to social media and Russian TV. A large collection of wigs was on display, along with gold bars, weapons, and – bizarrely – weapons.
News of the Week, Russia-1's flagship show, continued the character assassination last night.
"He isn't the Robin Hood he tried to pass himself off as. He is a businessman with criminal past. Many of his projects were dodgy and not always legal."
It was agreed that Mr Prigozhin and those Wagner fighters who expressed an interest in joining him would leave Russia for Belarus.
The Belarusian leader, Alexander Lukashenko, told us last week that the Wagner chief and his mercenaries were not there. It can happen that they end up in Belarus – but it can also happen that they don't.
I think that's all clear now. That's not true.
Can you tell me where Wagner is? What is the whereabouts of Mr. Prigozhin? Can you tell me what their plans are? How did they agree with Mr. Putin?
My wish is to know.
For now, I can only say one thing: stay tuned for the June Mutiny and the Kremlin's next (inevitably bizarre) episode.