Post-Ashes drinks moved to nightclub after Australia left waiting at the Oval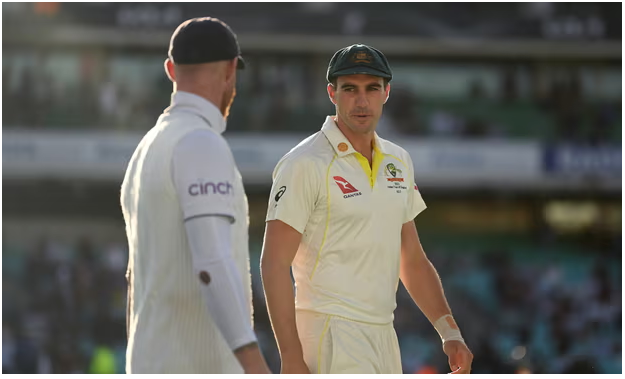 Australia's players were briefly left disappointed after believing they were brushed off for the traditional post-Ashes drinks by England at the Oval after day five.
Australian players were spotted looking into the hosts' dressing rooms after play, before eventually giving up and leaving the ground at close to 10.45pm, shortly after which England emerged.
Post-series drinks have long been a tradition of international cricket, with players usually gathering once meetings and family time is finished.
But they did not go ahead at the Oval on Monday night after Australia's 49-run loss to England. Australian players reportedly asked numerous times to enter the English sheds, but the door was locked and the tourists not let in.
England's captain Ben Stokes has since said they were held up by extended retirement presentations in the dressing room, and had expected to drink with Australia.
It comes after England coach Brendon McCullum had threatened to boycott the drinks earlier in the series, after the controversial Jonny Bairstow stumping at Lord's.
Tensions had appeared to ease between the two teams in recent Tests, and Stokes had indicated on Monday evening that relations with Australian players had been friendly, with limited sledging in the series.
"That's the progression of franchise cricket to be honest," Stokes said. "There are a lot of players who have relationships with the opposition now, not just England and Australia, but with other teams around the world."
The missed drinks was not the only drama, with Ricky Ponting calling for an investigation into why England were handed a shiny replacement ball at a crucial moment in the fifth Ashes Test.
In what proved to be a decisive juncture in Australia's 49-run loss, England convinced umpires to have their ball replaced late on day four when it struck Usman Khawaja in the helmet.
Under cricket's laws, balls can be replaced if they are damaged or out of shape, but umpires must find a ball that "has had wear comparable" with the previous one.But when England handed over a ball that was well-worn on one side and largely unthreatening, they were given a shinier Dukes ball that still had writing visible on it.
The issue was summed up in the 10 overs afterwards, where 38% of balls beat the edge or caused a misleading shot compared to the 16% with the old ball.
In that period Australia also lost the wickets of David Warner and Khawaja to Chris Woakes early on day five, ultimately hurting the tourists as they went from 0-140 to all out for 334, leaving the series level at 2-2.
Former Australian captain Ponting said there was "no way in the world you can even look at those two balls there and say in any way they are comparable".
"I just cannot fathom how two international umpires that have done that a lot of times before, can actually get it so wrong," he said. "That is a huge moment in this game. It's a huge blunder that needs to be investigated."
Khawaja said he immediately raised the issue with umpire Kumar Dharmasena, and believed it had dramatically changed the game.
"The big thing was that ball," he told the Nine Network. "As soon as they changed that ball, the first over … I knew straight away this ball is very different.
"It was disappointing for us because I felt like we had a real stranglehold on that game and today that ball was at 90 overs and it was still hooping around corners."