Pope Francis meets Ukrainian young people in Portugal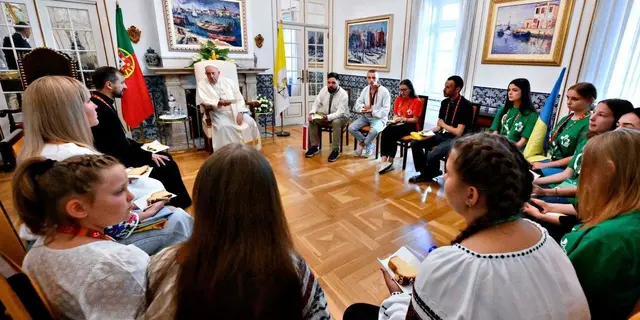 Pope Francis holds private meetings with sex abuse victims, Ukrainian pilgrims at World Youth Day
A private audience with lay groups was held by Pope Francis on Wednesday at the Portuguese apostolic nunciature, where he addressed Ukrainian pilgrims and victims of sexual abuse.
First, the pontiff met with Ukrainian Catholics attending the World Youth Day celebrations in Lisbon, where they discussed the Russian invasion and the state of the country. 
"Prince Francis met a group of 15 Ukrainian pilgrims this morning before leaving the Nunciature, accompanied by Mr. Denys Kolada, the Ukrainian government's consultant for dialogue with religious groups," said Holy See Press Director Matteo Bruni.
In response to the young people's moving stories, the pope expressed his 'sorrowful and prayerful' closeness," the statement stated.
The pope has been an outspoken critic of the Russian invasion of Ukraine, admonishing leaders and offering to personally facilitate negotiations to end the conflict.
As the pope asked during a World Youth Day address, "Where are you sailing if you are not showing the world paths of peace, creative ways to end the war in Ukraine and the many conflicts causing so much bloodshed?"
Pope Francis held an audience with Portuguese victims of sexual abuse by the Catholic Church the same evening.
"This evening, after concluding his institutional and ecclesial encounters, Pope Francis met with 13 victims of abuse by clergy members who were accompanied by several Church organizations dedicated to the protection of minors in the Nunciature," according to the Holy See Press Office.
According to the Holy See, the papal audience lasted more than an hour and was held in an atmosphere of intense listening.