Poland to stop supplying weapons to Ukraine over grain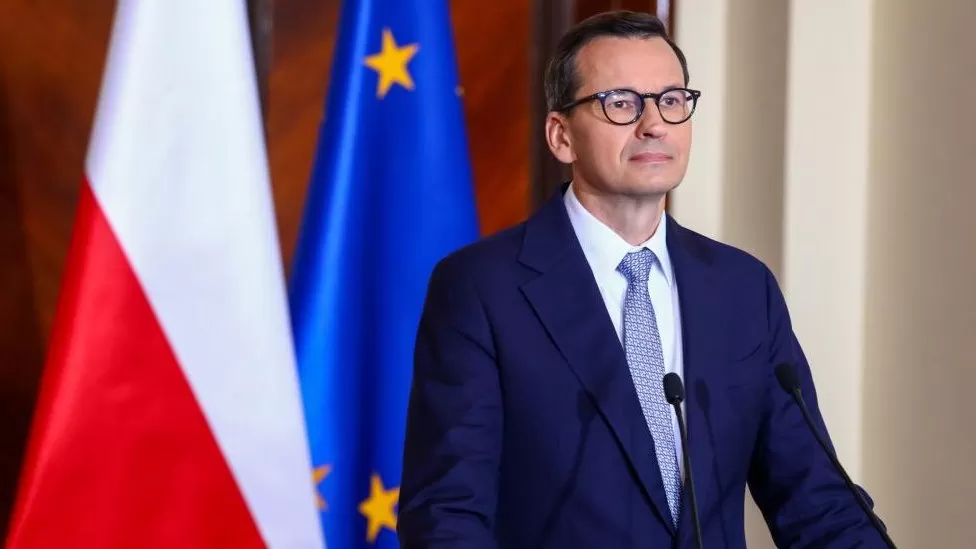 The Polish government announced it will cease supplying weapons to the country as a diplomatic dispute over grain escalates.
Instead, the prime minister said, the nation would focus on arming itself with modern weapons.
Tensions between the two nations are on the rise as a result of this move.
In response to President Volodymyr Zelensky's comments at the UN on Tuesday, Poland summoned Ukraine's ambassador.
According to him, some nations have pretended solidarity with Ukraine, which Warsaw denounced as "unjustified" since Poland has supported Ukraine from the beginning.
In a televised address on Wednesday, Poland's Prime Minister Mateusz Morawiecki announced the end of weapons supplies to Ukraine after a day of rapidly escalating tensions over grain imports.
Mr Morawiecki explained that Poland is now armed with more modern weapons rather than transferring weapons to Ukraine.
In the aftermath of Russia's full-scale invasion of Ukraine, the main Black Sea shipping lanes were all but closed, forcing Ukraine to find alternatives overland.
As a result, central Europe received large amounts of grain.
To protect local farmers who feared Ukrainian grain was lowering local prices, the European Union temporarily banned grain imports into Bulgaria, Hungary, Poland, Romania and Slovakia.
Hungary, Slovakia, and Poland decided to keep implementing the ban after the EU decided not to renew it on 15 September.
It has repeatedly been stated by the European Commission that individual EU members do not have the authority to make trade policy on behalf of the EU.