People are fainting queuing up for bread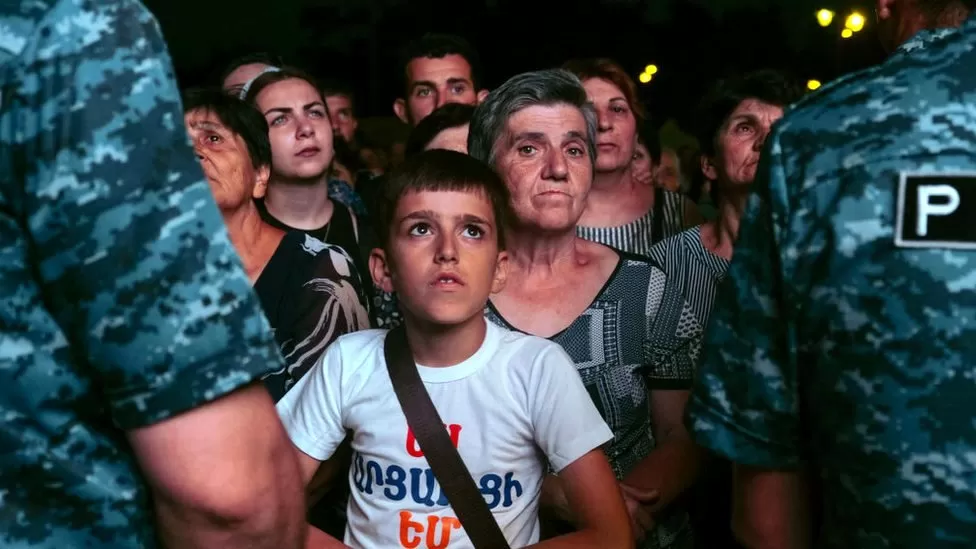 In the breakaway region, however, the Lachin Corridor has been blocked by Azerbaijani authorities for nearly nine months, resulting in severe shortages of food, medication, hygiene products, and fuel.
Hayk, 18, is on the balcony of a modest hotel in Goris on the Armenian side of the border with Azerbaijan, making a video call to his mother.
In Martakert, a Karabakh town, his mother says "there are no eggs, no sugar, there are no sweets at all, and bread is rationed."
He goes by Hayk, but that's not his real name. It has been changed for his safety.
Azerbaijan has blocked the Lachin Corridor since December, preventing Armenians from reaching their families.
It has been impossible for independent media to reach Nagorno-Karabakh. Social media has been flooded with photos and videos of empty shops. Azerbaijan denies that a humanitarian crisis is unfolding. As a result, it has offered an alternative supply route via Agdam, which it retook during the war in 2020.
Afterwards, the Lachin road will open in 24 hours. More roads are better for everyone, says the special adviser to the Azerbaijani president.
According to Hikmet Hajiyev, Karabakh Armenians have been granted the same linguistic, cultural, religious, and municipal rights as Azerbaijanis.
Edmon Marukyan, Armenia's ambassador at large, accuses Azerbaijan of making false promises since there is only one route connecting Armenia to Nagorno-Karabakh. Their aim is to change the focus of the international community, to dissolve the understanding and obligations of the Lachin Corridor."
The former UN special rapporteur Gulnara Shahinian warns that Karabakh Armenians will face annihilation if their last link with Armenia is severed. Considering the level of human rights violations in Azerbaijan, how could you expect a positive attitude towards Armenians in Karabakh?
The current crisis can be clearly seen from a mountain panorama just a short drive from Goris.
A new road built to circumvent territory returned to Azerbaijan as part of the 2020 ceasefire agreement remains impassable on the Armenian side.
The approach to the Azerbaijani checkpoint is lined with lorries loaded with 400 tonnes of humanitarian aid for Karabakh, including food, medicine, baby formula and other essentials.
As Hayk's mother misses cooking oil most, I ask a lorry driver waiting in Goris what he is transporting.
A total of 22 tonnes of cooking oil.