Pakistan, China to speed up ML-1, SEZs implementation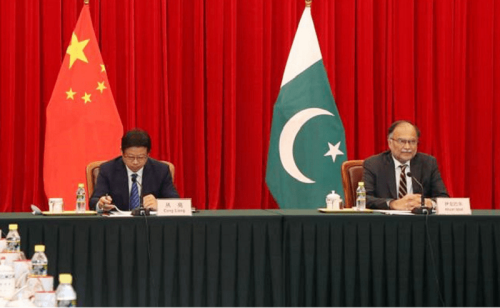 China and Pakistan have agreed to speed up the implementation of the ML-1 railway project and special economic zones (SEZs).
At a meeting held in Beijing on Tuesday, Minister for Planning and Development Ahsan Iqbal and Chairman of the National Development and Reform Commission (NDRC) Zheng Shanjie reached an agreement on this issue.
A four-day official visit is being made by the planning minister to China to commemorate the 10th anniversary of the China-Pakistan Economic Corridor (CPEC). Besides holding several meetings with key Chinese officials, the minister co-chaired a special Joint Cooperation Committee (JCC) meeting with the vice chairman of the NDRC.
The minister conveyed the congratulations of Prime Minister Shehbaz Sharif to Mr Shanjie on assuming his new role and assured him of full support in the implementation of CPEC.
Pakistan's export earnings and the development of SEZs will be enhanced with Chinese expertise and knowledge, according to the chairman of the NDRC.
Pakistan's export earnings could be boosted by Chinese expertise
To review ongoing cooperation under the CPEC framework and to prepare for the next phase, which focuses on industrialization, agriculture, science and technology, and socioeconomic development, both sides decided to hold regular meetings of joint working groups (JWGs).
In this regard, PM Shehbaz visited China when he took office in order to reiterate his commitment to complete CPEC projects.
A decade after CPEC was launched, the planning minister noted that it had been an impressive journey. CPEC has been successfully implemented as a team since 2013 by the relevant institutions on both sides, laying a solid foundation for the next phase.
In his remarks, the NDRC chairman pointed out that China and Pakistan have always been good friends and partners despite the vicissitudes of global politics.
Ahsan Iqbal also played a crucial role in the development of CPEC, according to him. In nine out of 12 meetings of the JCC, Mr Iqbal has been a co-chair.