Indus Motor signs export agreement with Egypt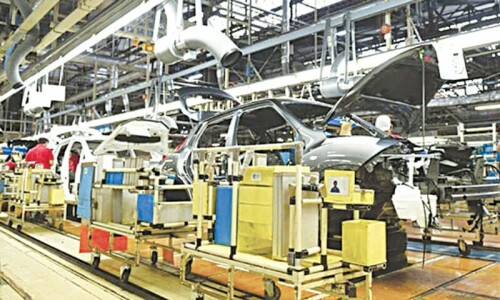 A 50% drop in sales for the automobile sector ended FY23, but Indus Motor Company (IMC) said it will begin exporting "high-quality products" in July.
The company didn't specify the types of products it would export in a press release on Tuesday.
According to the company, the first consignment "will mark the beginning of an era" in Pakistan's export sector.
Ali Asghar Jamali, IMC Chief Executive, said the move will bolster connectivity between Africa and Pakistan and boost trade links under the government's "Look Africa" program.
A 14-year low is reached in sales
As compared to 2022, the automobile sector had a forgettable year in 2023.
A 14-year low is reached in automobile sales
A total of 126,879 cars, light commercial vehicles, jeeps, and vans were sold in FY23, down 55 percent from 279,267 in FY22.
Arif Habib Limited (AHL) reported the lowest sales since FY09, citing PAMA figures.
In June, 6,034 units were sold, up 10 percent from 5,464 in May. As compared with the same month in 2022, the number was 79pc lower.
In FY23, two-wheeler sales dropped by 34 percent to 1.16 million units, while truck sales fell by 45 percent from 5,802 to 3,182 units, followed by a six percent drop in bus sales from 696 to 654 units.
From 58,947 to 30,942 tractors were sold, while from 40,098 to 19,066 three-wheelers were sold.
In June 2023, Pak Suzuki Motor Company Limited sold 3,009 units, up from 2,958 in May 2023. A drop of 81 percent was seen in June 2023 compared with 16,009 units sold in 2022.
The company's total sales fell by 57 percent from 150,279 units in FY22 to 65,363 units in FY23.
From 1,718 vehicles in May to 1,846 vehicles in June, Toyota's assembler, Indus Motor Company, increased sales by 7 percent month-over-month.
As compared to FY22, Honda Atlas Cars Limited sold 16,879 units in FY23, a 57 percent drop.
The number of units sold in June soared to 307 from 87 in May. Sales in June 2023, however, fell 92 percent from June 2022.
Sales of Japanese car assemblers plummeted, while Korean counterparts also experienced declines. Hyundai Nishat's sales fell 26 percent from 13,132 units in FY22 to 9,688 units in FY23.
Month-over-month, the company sold 503 to 558 units in June 2023, up 11 percent, but down 70 percent year-over-year compared to 1,871 units sold in June 2022.
In FY23, Sazgar Engineering sold 1,827 units, down from 467 units in FY22.
CKDs weren't available, car prices were rising, auto financing was expensive, interest rates were rising, and consumers had low purchasing power, according to Sunny Kumar of Top Line Securities.
According to him, CKD parts made a significant contribution to the increase in sales in June 2023.
Floods, plant closures, lower buying power and higher prices all affected tractor sales, he said.
As a result of decreased transportation activity and economic slowdown, bus sales were down, Mr Kumar said.