Pak-US bilateral relations to be further strengthen: PM Shehbaz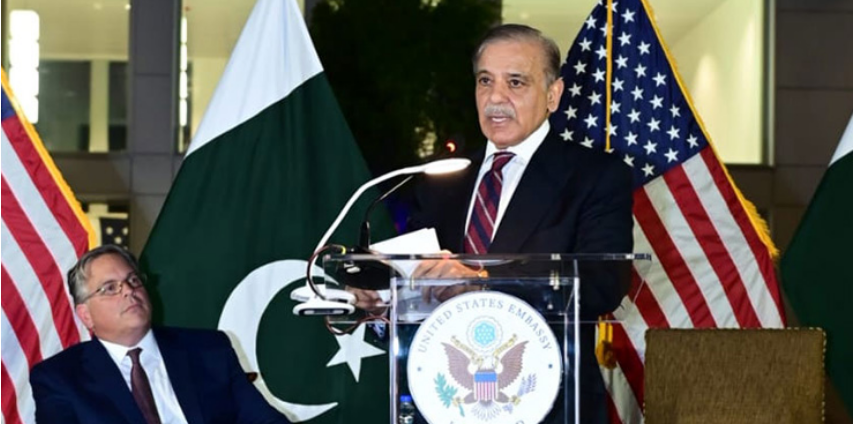 ARY News reported Pakistan and the US are good friends, and the bilateral ties between the two countries are strengthening, Prime Minister Shehbaz Sharif said.
These views were expressed during a ceremony in Islamabad celebrating the 247th national day of the United States.
A major trade partner of Pakistan is the United States, according to the Prime Minister. During the recovery of flood-affected people, the US offered vigorous cooperation.
It is Pakistan's desire to further improve relations with the United States.
During the event, US Ambassador to Pakistan Donald Armin Blome said we want to increase our economic cooperation with Pakistan. According to him, Pakistan is the world's largest export market.
It is pertinent to mention here that the White House issued a statement stating that both Modi and Biden "strongly condemned cross-border terrorism, the use of terrorist proxies and called on Pakistan to take immediate action to ensure that no territory under Pakistan's control is used to launch terrorist attacks".
In the joint statement, President Biden and Prime Minister Modi called for concerted action against all UN-listed terrorist groups, including Al-Qaeda, ISIS/Daesh, Lashkar-e-Tayyiba (LeT), Jaish-e-Mohammad (JeM), and Hizb-ul-Mujahideen.
A demarche was made this evening to the US Deputy Chief of Mission regarding the June 22 US-India Joint Statement, the foreign office spokesperson said.