Outrage as Iran regime chairs UN Human Rights Council body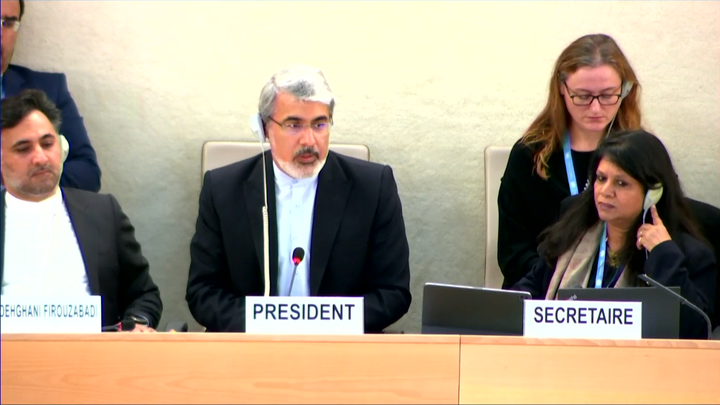 The UN human rights social forum will be chaired by Iran on Thursday, with many critical of the appointment because of Tehran's decades-long history of human rights abuses. 
A US Permanent Representative to the Human Rights Council, Ambassador Michele Taylor, wrote in a statement ahead of the one-day forum: "We find it absurd that an official from the Iranian regime will chair it." 
In addition, she stressed that "it is unacceptable that any organization dealing with human rights promotion and protection be chaired by a representative of a nation implicated in such persistent and flagrant abuses as Iran," stating that the US "categorically" refuses to participate in any human rights discussion chaired by Iran.
The Human Rights Council appointed Iranian Ambassador Ali Bahreini as chair-rapporteur for the 2023 "Social Forum," which, according to the letter announcing the appointment, focuses on "human rights promotion."
UN Watch's Hillel Neuer pointed out that the appointment came shortly after two Iranians were executed by hanging for using social media to criticize religion.
She criticized the UN for "promot[ing] the Islamic Republic to this position," which, she argued, ultimately supports a regime that executes innocent young people for showing hair, singing, dancing or posting to social media, according to Lisa Daftari, a Middle East expert and editor-in-chief of The Foreign Desk.
"The Iranian people have come to the streets for over a year to tell us they do not want to live under a repressive, abusive, terror-supporting regime that has caused the Iranian people to suffer for 44 years. With this move, the UN and all witnessing countries are abandoning the call of the Iranian people while proping up a regime that will only bring more terror, bloodshed, and extremism to the world."