On patrol with Tunisia's coast guard: Nine boats in 24 hours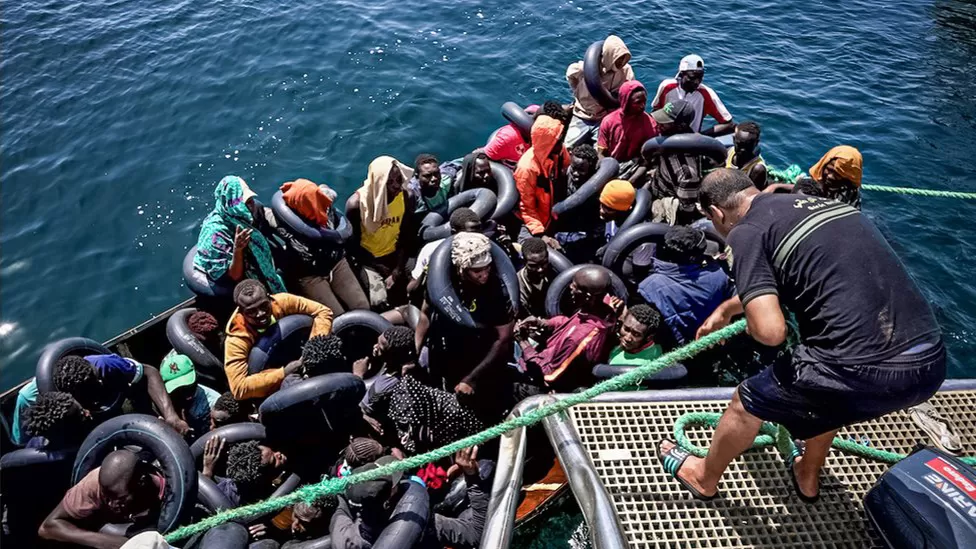 A small speedboat towed the first of nine migrant boats we encountered during the Tunisian coast guard's 24-hour patrol.
Over 180 migrants were rescued from what is now the busiest migrant route into Europe, wearing rubber rings but no life jackets.
The first signal was intercepted within half an hour after we left Sfax and boarded the national coast guard patrol boat.
To find the migrant ship, these smaller, more agile vessels worked alongside two speed boats.
Six Tunisian coastguards waited on the larger patrol vessel ready to help once their captain turned off the engine and surrendered.
Across the Mediterranean, Sfax is less than 200km from Lampedusa, an Italian island, which has long been a transit point for sub-Saharan Africans seeking to enter Europe illegally – and a hub for smugglers.
It used to be common for migrants to travel by road to Libya, then take a boat to Greece from there.
After the Libyan authorities deported thousands of migrants and intensified patrols along the coast, Tunisia became the preferred route for migrants seeking to travel to Europe.
The European Commission offered to contribute £115 million (£90 million) towards Tunisia's efforts to strengthen its border controls, anti-smuggling efforts, and search-and-rescue operations in July.
IMF is offering $115 million as part of a larger aid package. Tunisia has not yet agreed to the terms of how exactly the money should be spent.