Meta launches Instagram Threads in a direct challenge to Twitter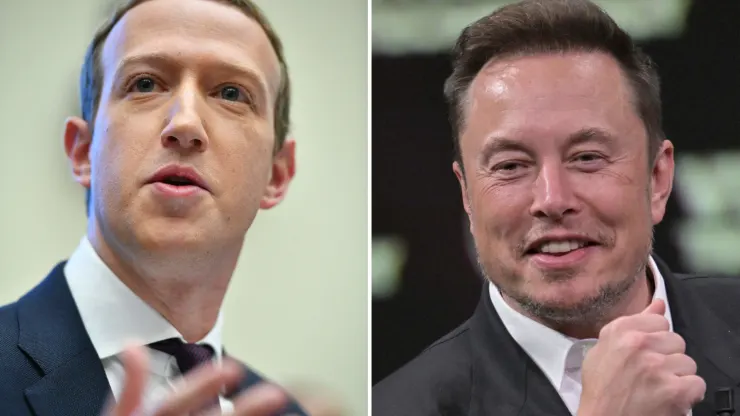 The company is marketing Threads as Instagram's "text-based conversation app," similar to Twitter.
The social networking giant's new text-based messaging app Threads was officially launched on Wednesday by Mark Zuckerberg, the CEO and co-founder of Meta. It represents Meta's attempt to capture users who have left Twitter amid Elon Musk's often unpredictable ownership of Tesla and SpaceX.
Meta said in a blog post that Threads is now available for free download on the Apple App Store and Google Play online store in over 100 countries. According to screenshots of Threads that are available on Apple's App Store, Threads is a text-based social messaging app in which users can post short messages for others to like, share, and comment on.
Threads users will be able to follow the same Instagram accounts they follow on Instagram and reply to other public posts in the same way they do on Twitter.
During the first four hours of Threads' launch, Zuckerberg announced 5 million people had signed up.
Instagram released a pre-order for Threads on the Apple App Store on Monday, stating at the time that the app would launch on July 6. Threads invitations were also recently sent to many Instagram users.
While Threads is linked to Instagram, with users able to use their Instagram usernames, it is a separate app that users will need to download.
Threads is a place for communities to discuss everything from today's topics to tomorrow's trends, Instagram said in its description of Threads. "Whatever you love, you can follow and connect directly with your favorite creators and others who share your interests – or build your own loyal following to share your ideas, opinions, and creativity."
Meta wrote in the blog post that people's individual feeds will include "threads" posted by other users they follow, as well as recommended content from creators they may not know.
Though Threads is geared toward text, users will also be able to share links, photos, and videos that can be as long as five minutes through the app. Instagram users will also be able to share Threads posts via the app's story feature, as well as "any other platform they choose."
Meta said it developed Threads "with tools to enable positive, productive conversations," and users will be able to manage who is mentioning or replying to them within the app.
According to the blog post, "you can add hidden words to your threads to exclude replies containing specific words." "You can unfollow, block, restrict, or report a profile on Threads by tapping the three-dot menu, and any accounts you've blocked on Instagram will be blocked on Threads as well."
Racing into the gap as Twitter implodes
Threads comes at a time when Twitter has suffered a wave of mishaps under Tesla CEO Elon Musk.
To combat "extreme levels of data scraping" and "system manipulation" on Twitter, Musk recently announced that users will only be able to see a certain number of Tweets per day.
Many Twitter users have complained publicly about Musk's temporary "rate limit" on Twitter, saying that it reduces the app's engagement.
After Musk announced the Twitter rate limit, BlueSky, a rival app backed by Twitter co-founder Jack Dorsey, said it experienced "record-high traffic" and temporarily halted sign-ups in order to deal with the influx of new users, who must be invited to use the app.
Like BlueSky, Threads uses decentralized technology that theoretically lets users manage their data across apps that use the same underlying software.
A Threads post posted by Instagram head Adam Mosseri on Wednesday that was briefly accessible to the public said Threads will eventually incorporate another decentralized technology called ActivityPub, a decentralized networking technology dubbed the AT Protocol. In addition to ActivityPub, Mastadon, another Twitter-like messaging app, has also seen a surge of new users seeking alternatives to Twitter.
Due to "a number of complications associated with a decentralized network," Mosseri's team couldn't support ActivityPub for Threads' official release. However, he reiterated that support will be added soon.
This is important because you may one day leave Threads, or worse, you may end up deplatformed," Mosseri said. It should be possible to move your audience to another server if that ever happens. Having an open mind can facilitate that."
Meta noted in its blog post that ActivityPub will enable people without Threads accounts to view Threads and interact with Threads users with public profiles using other social apps incorporating the same decentralized technology.
By having a public profile on Threads, you can reach new people without adding extra effort, Meta explained in the blog post. Like Instagram, if you have a private profile, you can approve users who wish to follow you and interact with your content.
As Meta's first app, Threads is "envisioned to be compatible with an open social networking protocol," which could usher "in a new era of diverse and interconnected networks."
Meta, then known as Facebook, launched a messaging app for Instagram users called Threads in 2019. Prior to Threads' current iteration, which caters to text-based messages, users were able to send short video and photo messages like they would with Snapchat.
Threads was shut down by Meta in 2021, and people were directed to Instagram to view their old Threads messages.