Messi scores another stunning double for Inter Miami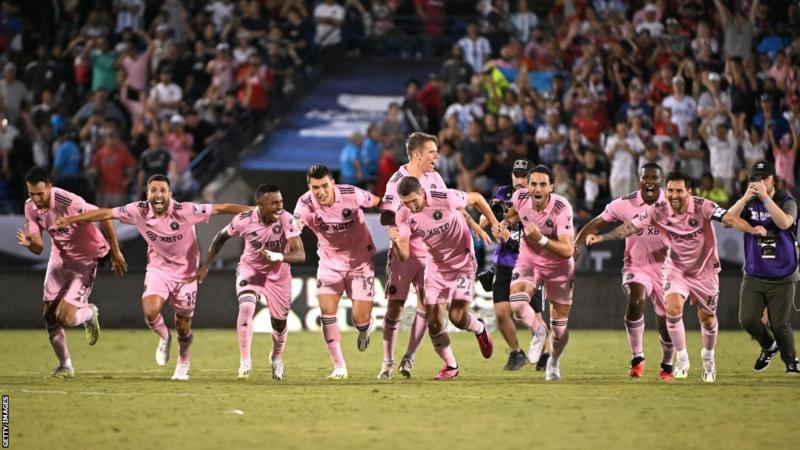 On Sunday, Lionel Messi's stunning double helped Inter Miami reach the Leagues Cup quarterfinals against FC Dallas.
Despite an early 4-2 lead, FC Dallas had to settle for a penalty shootout after two late goals.
At Toyota Stadium in Frisco, Texas, Miami won the shootout 5-3.
As a result of going down 4-2 in the 80th minute and coming back, Miami manager Gerardo Martino is very happy with the result.
It's important not to lose sight of the things we need to improve despite what we've been through."
Messi has turned Miami's winless streak into four wins in a row since he arrived.
After six minutes, the former Barcelona and Paris St-Germain forward scored, curling a shot inside the near post from outside the penalty area, but Dallas were 3-1 ahead at the break.
An own goal by Robert Taylor restored Dallas' two-goal lead after midfielder Benjamin Cremaschi reduced Miami's deficit.
In the 80th minute, Marco Farfan headed Messi's cross into his own net, before the 36-year-old World Cup winner curled home a stunning free-kick five minutes later to level the tie.
After Messi set Miami on their way in the penalty shootout, Sergio Busquets kept his cool from 12 yards as Paxton Pomykal's miss proved costly for Dallas.
The Leagues Cup debuted in 2019 and involves teams from the United States and Mexico competing in a knockout format. Inter Miami are the first club to reach the quarterfinals.