Maui fire: First victims named as death toll reaches 111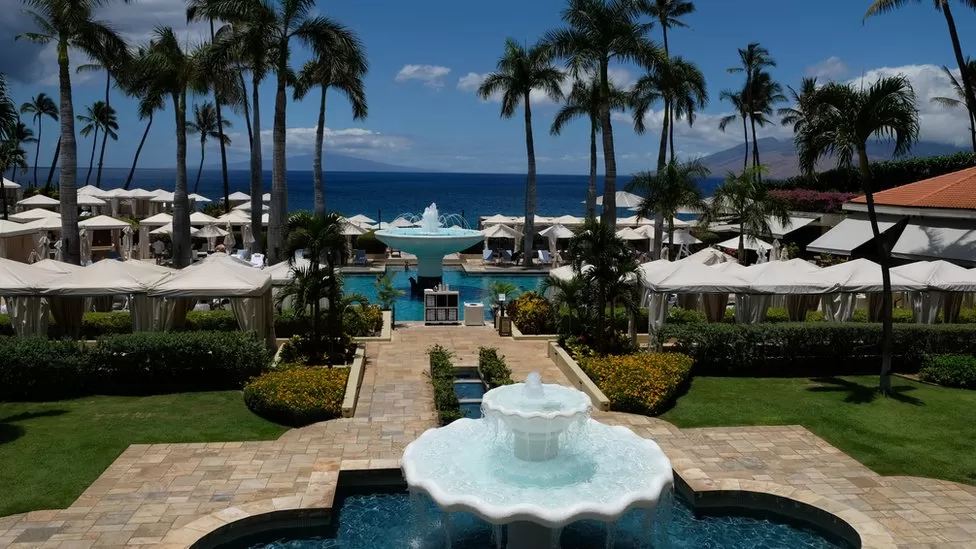 One week after at least 111 people died in wildfires on Maui, officials have released the names of those killed.
First to be named were Robert Dyckman, 74, and Buddy Jantoc, 79.
County Maui officials confirmed Melva Benjamin, 71, Virginia Dofa, 90, and Alfredo Galinato, 79, died in the fires on Wednesday night local time.
There are still more than 1,000 people missing, according to estimates.
A slow and grueling search for victims has followed the fire that destroyed the historic town of Lahaina within hours.
It was reported by the New York Times that Mr. Jantoc's body was discovered at his Lahaina home, where he lived as part of an old people's home.
A relative told the newspaper that he was known by family as "Mr Aloha" and told tales of his heyday as a bass guitarist with Carlos Santana and George Benson.
His daughter-in-law said, "I'm hoping he was asleep.". It is my prayer that he did not suffer.
Teams led by sniffer dogs trained to detect bodies have searched the wreckage, now filled with twisted metal and other debris, block by block.
The Federal Emergency Management Agency (Fema) Administrator Deanne Criswell said on Wednesday that another 20 canine teams are expected to join the search.
She told reporters in Washington DC, "This is a really difficult disaster, and this is a really difficult search operation." She added, "It will also take a very long time to recover from this."
As of Tuesday evening, 27 percent of the disaster site had been searched, according to Governor Josh Green. Over the next 10 days, the number of deaths could rise significantly and even double, he warned in a televised address.
Following that, officials must identify the dead, a process complicated by the severity of the burns and requiring the help of forensic experts and DNA samples from family members.
Thirty experts from federal mortuary teams are already in Maui, and more from the US defence department will join them soon.
The White House announced that US President Joe Biden and First Lady Jill Biden will visit Hawaii on Monday.
In response to a reporter's question about Hawaii's rising death toll, Mr Biden said: "No comment." The president's apparent delay in visiting Maui, along with that remark, angered many locals, who perceive it as a slap in the face.
Hello, Mr. President, how about Hawaii?" asked Chaymen Enomoto. "No comment?" said Chaymen Enomoto.
On Tuesday, Mr Biden said he had not yet visited due to concerns it would divert resources from the humanitarian response. During his visit to Hawaii, he will be accompanied by his wife, Jill Biden.
I've been to too many disaster areas to get in the way," he said. It's important that we don't disrupt ongoing recovery efforts."