Climate change: Tenerife wildfires lead to evacuation of villages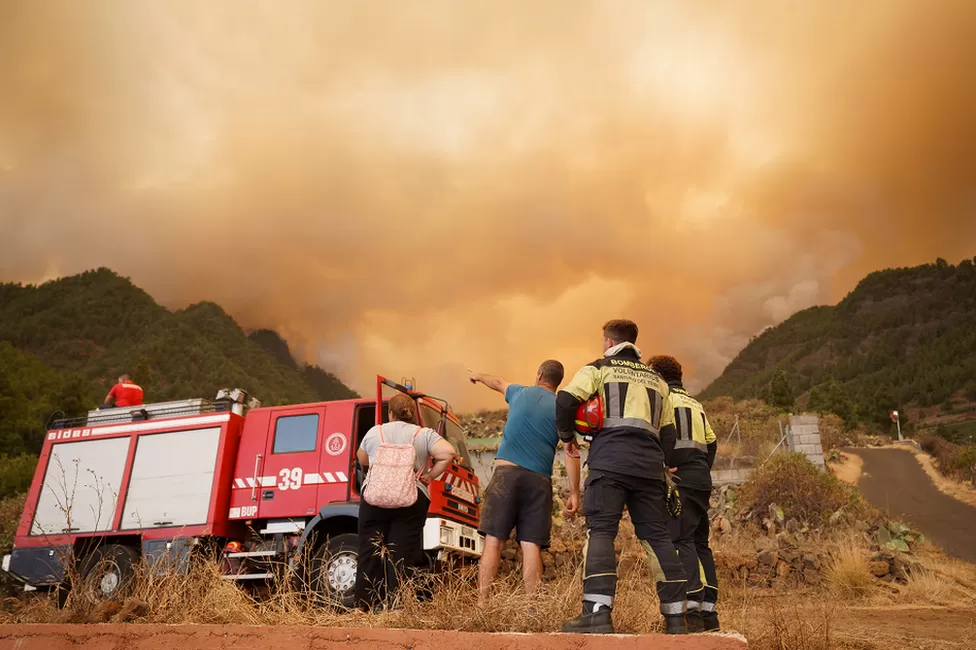 There have been evacuations of five villages on the Spanish island of Tenerife due to a major wildfire.
Since it started late Tuesday evening in a nature reserve on the north-east coast of the island, the fire has spread some 8 sq km (800 hectares).
Spanish authorities have cut off access to the forest surrounding Spain's highest peak, Mount Teide, and say secondary fires have now broken out.
Over the area, helicopters have been seen spraying water.
It is difficult for firefighters to contain the main blaze in the Candelaria and Arafo areas due to its spread through woodland and ravines.
According to Tenerife Council president Rosa Davila, aircraft were needed due to the steep terrain.
She told a local radio station that the blaze has a great deal of potential. "We have asked for additional means," she added.
On Wednesday morning, Arrate, Chivisaya, Media Montaa, Ajafoa, and Las Lagunetas villages were evacuated.
A number of secondary fires also broke out on Tenerife, according to Pedro Martinez, the island's chief of emergency services.
Images show thick plumes of smoke billowing into the sky along with large flames engulfing parts of the forest.
Arrivals and departures at Tenerife's South and North airports appeared to be unaffected as of Wednesday evening.
The Canary Islands have been hit by a heatwave that has left many areas bone dry, increasing wildfire risks.
Thousands of residents on the nearby island of La Palma, which is also part of the Canary Islands archipelago off the coast of northern Africa, were ordered to evacuate last month due to a wildfire.
This summer, wildfires have raged in many parts of the world, including southern Europe, northern Africa, Canada, and Hawaii.
Human-induced climate change has resulted in more frequent, more intense, and longer heatwaves.
Without sharp cuts in emissions worldwide, temperatures will continue to rise until the industrial era ends. The world has already warmed by about 1.1C since the industrial revolution began.