Mathews controversially timed out as Bangladesh beat Sri Lanka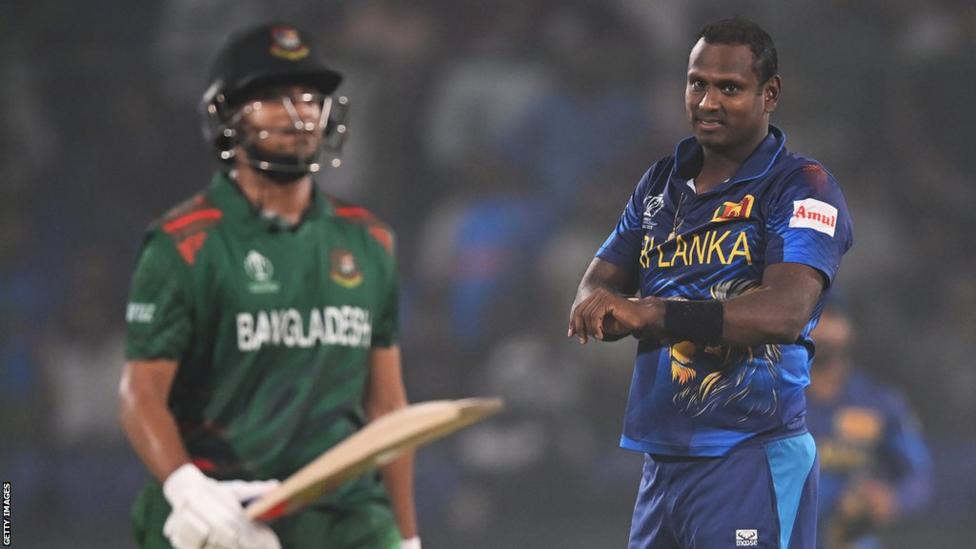 When Mathews failed to take guard in sufficient time after walking to the crease, it ignited an already stormy encounter.
Mathews stormed off after Bangladesh captain Shakib Al Hasan appealed.
Despite Mathews' helmet strap snapping as he prepared to bat, the fourth umpire said Mathews had already taken too long.
"I didn't do anything wrong," said the 36-year-old. "I had two minutes to get to the crease and prepare myself, which I did, and then the equipment malfunctioned.".
I don't know where the common sense went because it's disgraceful if Shakib and Bangladesh want to play like that. To stoop down to that level there's something drastically wrong."
After my helmet broke, I still had five seconds left. I am not talking about mankading [running out a batter at the non-striker's end] or obstructing the field. It is disgraceful."
"We talk about player safety, but can you tell me if I should take my guard without my helmet?"?"
Bangladesh had already been eliminated, while Sri Lanka needed a miracle to advance, so Champions Trophy qualification was the focus of the match.
After Sadeera Samarawickrama was dismissed two balls into the 25th over of Sri Lanka's innings, Mathews walked out.