Man gets citizenship letter from late Queen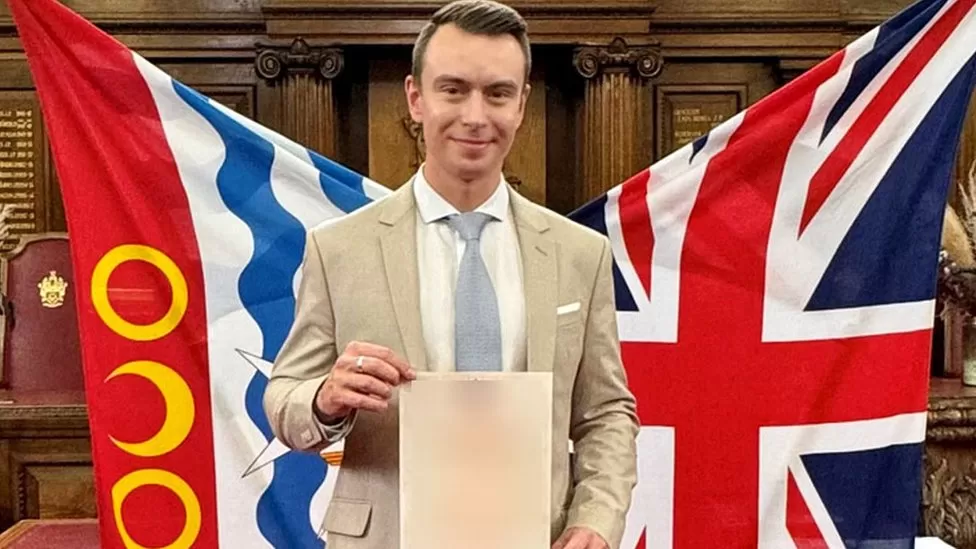 At a north London ceremony, a man was issued a citizenship document "on behalf of" Queen Elizabeth II and addressed by former home secretary Priti Patel.
A 13-month-old photo of the Queen was presented to Micha Juryniec on Monday at Islington town hall.
The office of Ms Patel was terminated in September 2022.
According to the council, which organised the event, it updated packs with the "latest information", but "on this occasion, an old pack was given out by mistake".
In a statement, the Home Office said it was working with Islington Council to "rectify" out-of-date information.
A photograph of Ms Patel appears in the letter, which states: "Her Majesty The Queen has asked me to welcome you on behalf of Herself, the British Government, and your fellow British citizens."
A naturalisation certificate was presented by Islington's mayor to Mr Juryniec at the ceremony.
It was the culmination of a long and "tedious" bureaucratic process, both for getting British citizenship and then booking the ceremony.
In an interview, the Polish-British dual national said he received three pieces of paper at the ceremony, but he didn't read the letter until he got to his home in Brent.
The letter itself, as embarrassing as it is, has just been a culmination of a process that for many people, including myself, is the result of important decisions made regarding the application for citizenship and links to the country and community here in the UK," he said.
As a result of the letter and the overall process, Mr Juryniec felt "disappointed".