Kylie Jenner returns to work after vacation with Timothée Chalamet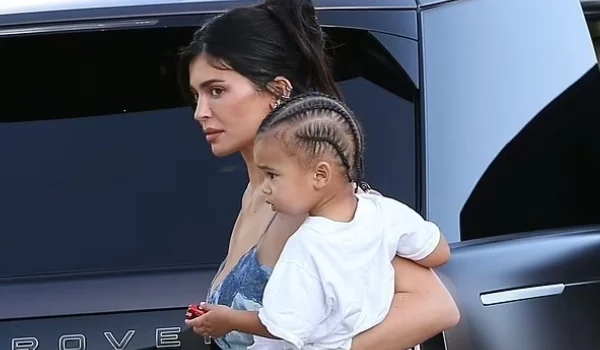 Kylie Jenner was spotted with her 19-months-old baby in Los Angeles as she returns to work after vacationing in New York, with Timothée Chalamet. 
In a blue and white dress styled with denim boots, the 26-year-old model sported a low-cut low-cut. The blonde wore a loose bun with her hair tucked back in a loose bun and accessorized with chunky, silver hoops. 
Kylie's baby boy, Aire, wore a simple white T-shirt and jeans with cornrows braided in his hair.
Since Kylie's new venture includes doll figurines, she appeared headed to the Bratz head office in LA.
As reported by the Daily Mail, Kylie is making millions from this new collaboration announced on Instagram on August 1. In social media sponsored content, the model earns up to $1 million, according to Evening Standard.
The actress expressed her love of Bratz in a press release, saying: "I've always wanted a Bratz doll since I was a child." Working with the Bratz team over the past year has been a wonderful experience."
In the past few weeks, the model has been in the news for her ongoing romance with Timothee Chalamet after the two were spotted together at Beyoncé's concert and the US Open. 
According to insiders, "the relationship is very real, and it isn't just casual."