Kourtney Kardashian sets adorable theme for her baby shower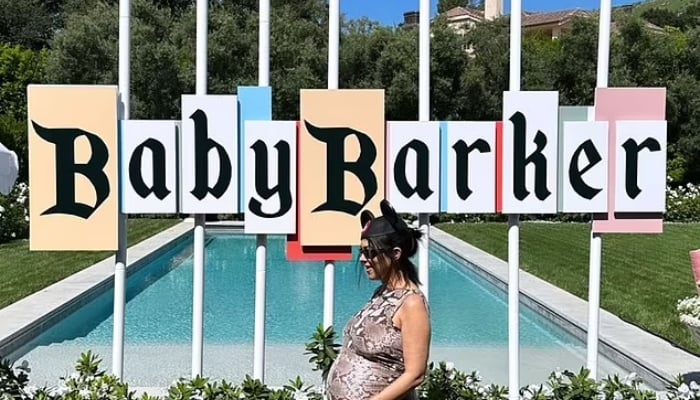 Kourtney Kardashian celebrated her baby shower and the theme couldn't be more perfect.
With her family by her side, Kourtney threw a Disney-themed shower at her Los Angeles mansion. 
Travis Barker, the model's husband, shared pictures from the intimate event despite testing positive for Covid just days earlier.
In one of the images, Barker was pictured wearing a snake-print dress and posing with her bump in front of a sign reading: "Baby Barker."
A photo shared by Kim Kardashian showed the huge sign next to a swimming pool, which was surrounded by pretzels and churros.
As the Skims founder filmed the entrance, greeters dressed in red-and-white striped barbershop quartet suits held balloons.
Khloe Kardashian also showed off the treats that were served at the shower, including chocolates and confections in the shape of mice. 
On the other hand, Kris Jenner greeted guests at the entrance wearing silk pajamas and a hat with mouse ears.
Kourtney experienced a pregnancy scare earlier this month, which is why Tarvis rushed back to her. 
A foetal surgery was then performed on the 44-year-old model to prevent complications for her unborn child.