Kim Jong Un 'to visit Putin for weapons talks'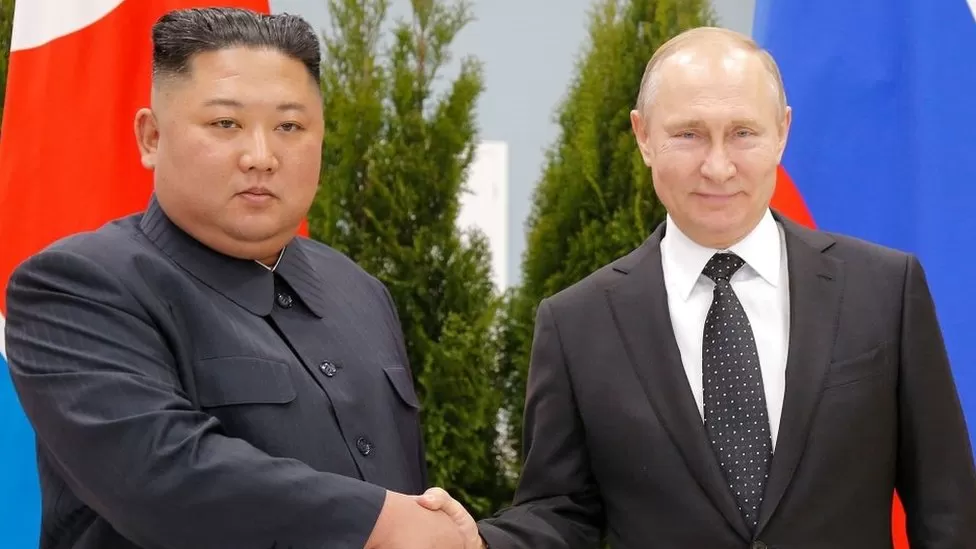 According to the official, the two leaders will discuss the possibility of North Korea providing weapons to support Moscow's war in Ukraine.
It is unclear where the meeting will take place.
North Korea and Russia did not respond to the report, which was also carried by other US media.
According to the New York Times, Mr Kim is most likely to travel by armoured train.
White House officials said they had new information that arms talks between the two countries were "actively advancing".
During a recent visit to North Korea, the Russian Defence Minister, Sergei Shoigu, tried to "convince Pyongyang to sell artillery ammunition" to Russia.
Among the weapons on display at the meeting was the Hwasong intercontinental ballistic missile, the country's first ICBM to use solid propellants. Mr Kim opened the country's doors to foreign guests for the first time since the Covid pandemic. Putin and Kim have since exchanged letters "pledging to increase bilateral cooperation", he said.
"We urge Pyongyang to cease its arms negotiations with Russia and abide by its public commitments not to sell or provide arms to Russia," Kirby said, abbreviating the North.
In the event that North Korea supplied Russia with weapons, the US would take action, including imposing sanctions.
Both Washington and Seoul are concerned about what North Korea would receive in return for such a deal, which could result in increased military cooperation between the two countries.
According to South Korea's intelligence service, Mr Shoigu suggested Russia, China and North Korea hold joint naval drills, similar to those conducted by the US, South Korea and Japan.
Russia could also provide North Korea with weapons at a time when Pyongyang most needs them in the future.
In addition, Kim Jong Un may ask Mr Putin to provide him with advanced weapons technology or knowledge, in order to make advancements in his nuclear weapons program.
A deal, however, could end up being more transactional than strategic. Currently, Russia needs weapons, and sanctions-starved North Korea needs money and food.
Vladivostok, on Russia's east coast, could be the location of the meeting between Kim and Putin, according to the New York Times.
North Korean officials traveled to Vladivostok and Moscow late last month, according to the newspaper's diplomatic correspondent, Edward Wong.
Wong said the group included security officers who deal with protocol surrounding travel of the leadership.