Keira Walsh & Bethany England ruled out through injury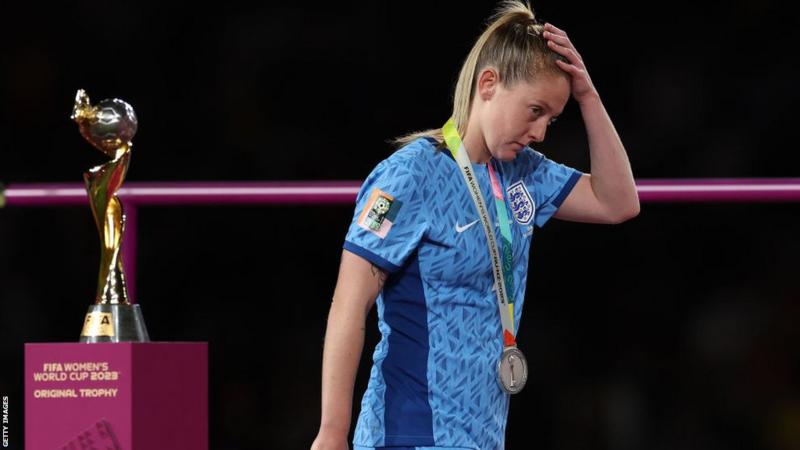 Manchester City's Jess Park replaces Spurs striker Bethany England due to injury.
There are only two players missing from the Lionesses squad that reached the Women's World Cup final: Walsh and England.
Lucy Staniforth and Maya le Tissier have been recalled to Sarina Wiegman's 24-player squad.
Prior to the World Cup, Aston Villa midfielder Staniforth and Manchester United defender Le Tissier both travelled to Australia on standby.
The 29-year-old England had hip surgery on 6 September and will miss the Women's Super League season.
Walsh, 26, picked up a knee injury during the World Cup, but Wiegman said it has nothing to do with that injury, instead she is out due to a calf injury.
"[Walsh] has a small calf injury and it's just too short for her to come into camp. It's not a serious injury, but she's not ready to play," Wiegman said. Both Chelsea's Fran Kirby and Arsenal's Beth Mead missed the World Cup with long-term injuries, but Wiegman said this camp came too soon for them to return.
"Beth [Mead] needs to take the next step in order to get games and consistency. Fran [Kirby] is really close," said Wiegman.
'Kirby has played some pre-season friends already, and he did well, but it's still a little early. I'm looking forward to seeing them.'
The two of them were two of the team's biggest supporters over the summer. It's disappointing because they're ready to go. They just need a little patience."
Sunderland hosts Scotland on Friday, 22 September, and Utrecht hosts the Netherlands on Tuesday, 26 September.
The winner of England's Nations League group will qualify for the semi-finals in February.
"International windows are always competitive. We always play to win, but sometimes we have to make choices for development," said Wiegman.
"But that's not the case now because we want to qualify for the Olympics by winning the Nations League."