IHOP rolls out biscuits menu nationwide for the first time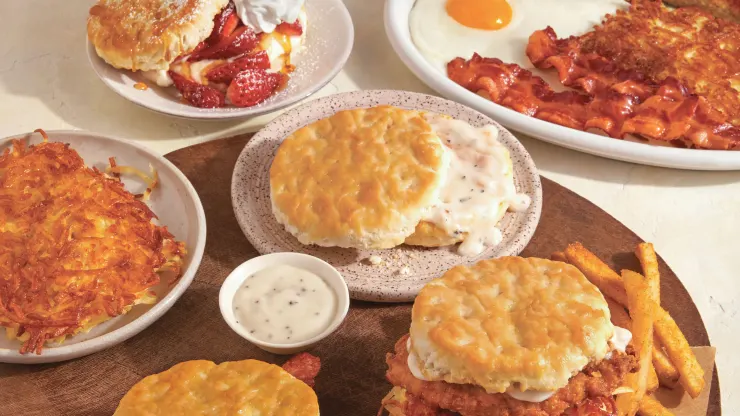 IHOP is now offering its biscuits menu nationwide for the first time.
The Dine Brands chain, famous for its pancakes, has expanded into different categories, from burritos to savory crepes, after slashing its menu by a third during the Covid-19 pandemic. The new menu items are mainly designed to attract diners during lunch and dinner hours and increase takeout sales. There are also some old favorites that IHOP has brought back, such as the Cinn-A-Stack pancakes.
Consumers' cautious spending behavior hasn't been offset by the chain's menu strategy. Despite higher menu prices, IHOP's same-store sales grew just 2.1% in the most recent quarter. Applebee's, Applebee's sister brand, reported a same-store sales decline of 1%.
The market value of Dine Brands has fallen to $856 million as a result of a 25% decline in shares this year.
Dine Brands' stock could benefit from IHOP's biscuits menu starting Monday. In certain regions, such as the South, the chain has sold biscuits, but now it is bringing them to the entire country.
The new lineup includes a buttermilk biscuit; a breakfast biscuit sandwich with bacon, American cheese, cheese sauce and eggs; a chicken biscuit sandwich with pickle chips and country gravy; and a fresh strawberries and cream biscuit filled with cheesecake mousse, strawberries and syrup.
To appeal to budget-conscious consumers, a breakfast biscuit sandwich with a choice of side will be available until Sept. 26 for $7.
According to IHOP Chief Marketing Officer Kieran Donahue, consumer research indicates that diners across the country are interested in eating the chain's biscuits.
"We wouldn't have included this on our menu if we didn't believe it had national appeal," she said.