Hundreds protest in flood-hit eastern Libya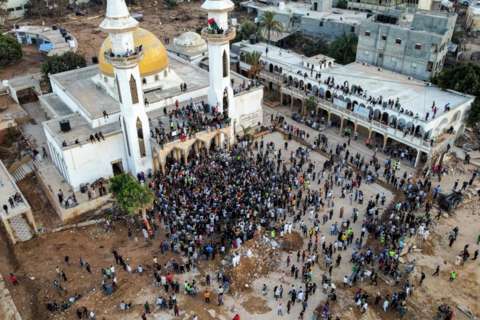 According to revised UN figures, nearly 4,000 people have died in floods caused by the leaders of eastern Libya's parliament, Aguila Saleh, and local authorities.
Protesters called for speedy investigations into the disaster and legal action against the leaders.
Derna should also be rebuilt, as well as compensation, investigations into the city's finances, and investigations into the city's finances.
Libya's eastern region is governed by a parallel government, separate from the UN-recognized government in Tripoli.
Floods could have been prevented if local authorities evacuated residents or at least communicated warnings about Storm Daniel, according to several experts and humanitarian organizations.
According to experts, authorities neglected the city's dams, causing them to burst and unleash flood waters.
Derna's mayor, Abdulmenam al-Ghaithi, was also burned to death by protesters.
The eastern Libyan Prime Minister Osama Hammad suspended Mr Ghaithi and other Derna municipal officials.