Gröna Lund: Rollercoaster accident in Sweden leaves one dead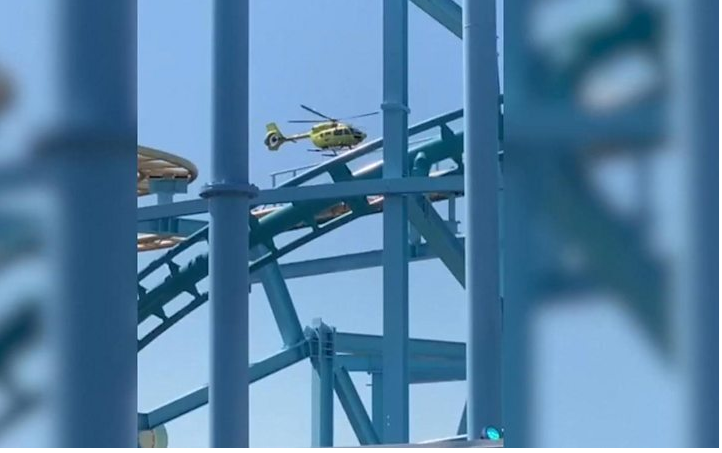 One person has died and at least nine others have been injured in a rollercoaster accident at an amusement park in Sweden.
In Stockholm's Gröna Lund park, a ride partially went off the rails. Rollercoasters like Jetline can reach heights of 30 meters (90 feet) and speeds of 90 km/h (55mph).
As a result of the accident, the park was evacuated and police and emergency services were dispatched.
A day of mourning has been declared by the park's chief executive, Jan Eriksson.
Three of the nine injured people are receiving treatment at a nearby hospital after being severely wounded.
Approximately 11:30 Swedish local time (9:30 GMT) was the time of the accident.
During the rollercoaster ride, 14 people were thrown to the ground after the front part of the ride separated from the vehicle.
In a report to Swedish broadcaster SVT, journalist Jenny Lagerstedt said she was near the track and heard a metallic sound.
Adding that her children were scared, she said, "my husband saw a rollercoaster car falling to the ground.".
According to Mr Eriksson, "something like this shouldn't happen at Gröna Lund, but it did.".
According to him, the 140-year-old park will be closed for a week so that police can conduct an investigation.
Tickets purchased during that period will be refunded to those who have already purchased them.
In a news conference, Gröna Lund spokeswoman Annika Troselius said: "We must do everything we can to figure out what happened.".
In expressing condolences, Sweden's culture minister Parisa Liljestrand called the accident incomprehensible.