Greece boat tragedy: Pakistan decides to amend anti-trafficking laws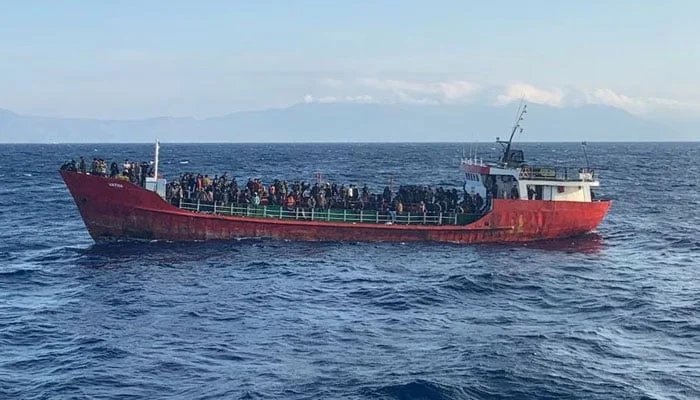 As a cargo ship sails off the island of Crete, Greece, October 29, 2021, migrants are rescued. The Reuters news agency
Smuggling assets to be frozen: sources.

A high-level committee has been set up to address the issue, according to Rana Sanaullah.

After the identification process is complete, bodies will be brought
According to Geo News on Friday, the federal government has decided to amend the Trafficking in Person Act of 2018 in response to the tragic shipwreck in which over 80 Pakistanis died and hundreds more are still missing.
Human smuggling and human trafficking will become nonbailable offenses under the proposed amendment, the sources said, adding that bank accounts and assets of traffickers and smugglers will be frozen.
An example of a 'flawed law'
A crackdown on human smuggling, which caused several Pakistani citizens to die, was also announced by Interior Minister Rana Sanaullah today.
According to the federal minister, there is also a flaw in the law in this regard.
Further, he revealed that the matter had been assigned to a high-level committee led by a grade 22 officer.
Those involved in the accidents were spared from court proceedings thus far, he said, adding that the committee is working on three aspects.
The proposed legislation in this regard, however, is currently in progress, according to Sanaullah.
He explained that thousands of young people are in touch with Egypt, Libya, and the UAE regarding the issuance of visas in order to travel to Europe.
Continuing to emphasize that action would be taken against human traffickers, he vowed that comprehensive recommendations would be made to the nation and that comprehensive measures would be taken to prevent illegal migration.
It has been five years since the data available on human smuggling and trafficking was collected. Only a few have been convicted. Then, the affected families reconcile." Sanaullah said.
In addition to Egypt, Libya, and the UAE, people travel legally from Pakistan.
He said that after that, people start traveling illegally.
The number of Pakistani bodies brought back to date is 82
A boat with a capacity of 400 people, carrying 700 people, was involved in the accident and 12 Pakistanis were rescued.
"There are 350 Pakistanis found on the boat so far," he said, adding that terrorist incidents may have killed fewer lives.
In addition, 82 bodies were recovered from the sea, and the National Database and Registration Authority (Nadra) is trying to identify them through DNA.
Families affected by the tragedy have been contacted by special desks established by the minister. Two hundred and eighty-one families have contacted these desks so far."
It is possible to bring back the deceased's bodies after the identification process has been completed.