Google to begin selling maps data to companies building solar products, hopes to generate $100 million in first year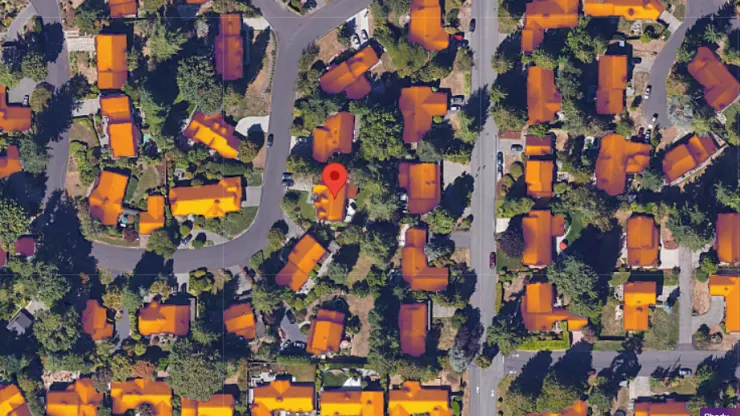 CNBC has learned that Google plans to license new mapping data to a range of companies for use in developing renewable energy products. It hopes to generate $100 million in revenue in its first year.
According to materials viewed by CNBC, the company plans to sell access to new APIs (application programming interfaces) for solar and energy information and air quality monitoring.
Among the new offerings will be a Solar API, which could be used by solar installers like SunRun and Tesla Energy, as well as solar design companies like Aurora Solar, according to a list of examples viewed by CNBC. The company also sees opportunities with real estate companies like Zillow and Redfin, hospitality companies like Marriott Bonvoy, and utilities like PG&E.
Project Sunroof, a solar savings calculator launched in 2015, will provide some of the data for the Solar API. Using the program, users can find out how much their solar installation will cost as well as how much electricity they'll save. A 3D model is also available for roofs of buildings and nearby trees based on Google Maps information.
In one document, Google states that it will sell API access to individual building data, as well as aggregated data for all buildings in a particular city or county. According to documents, the company boasts a database of more than 350 million buildings, a significant increase from 60 million buildings cited for Project Sunroof last year.
The company's solar APIs are expected to generate revenue between $90 and $100 million in the first year following launch, according to an internal document. A connection to Google Cloud products is also possible in the future, according to documents.
In conjunction with the launch, the company will also announce an Air Quality API that will allow customers to request air quality data, including pollutants and health-based recommendations. A digital heat map and hourly air quality information will also be included, as well as a 30-day air quality history.
Responses to a request for comment from Google were not immediate.
A broader economic slowdown is putting pressure on the company to produce revenue through its maps products. In addition to improving efficiency, the company also invests in newer technologies like generative AI and sustainability – a market it hopes to capture with the Solar API.
As of 2019, Uber paid Google $58 million over three years for the right to use Google's mapping API for navigation. The company's Maps API revenue goes to its cloud segment, which turned profitable in the first quarter but has struggled to compete with market leaders Amazon and Microsoft.
Morgan Stanley analyst Brian Nowak told CNBC in 2021 that Google doesn't break out how much its Maps business makes. Google Maps' ad revenue was expected to increase by $11.1 billion by this year due to new travel products and promoted pins.
As well as streamlining its mapping products, the move comes at a time when the company is looking to improve its productivity. According to CNBC, Google is laying off employees at Waze, which it acquired in 2013, and combining it with its Google Maps division.