Germany seeks to invest in Nigeria's natural gas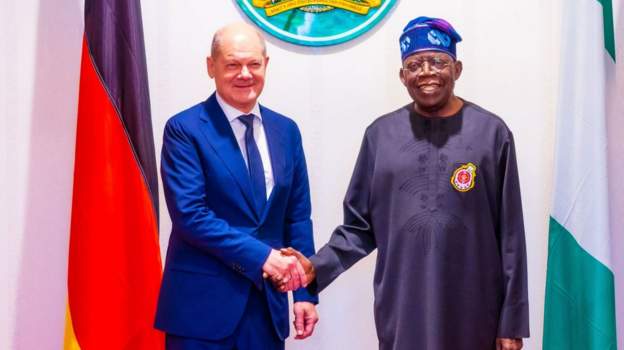 As he begins a two-day visit to Nigeria, German Chancellor Olaf Scholz says his country is willing to invest in gas and critical minerals.
The European country looks to expand economic partnerships in the energy-rich region, Scholz said on Sunday.
This is his third trip to Africa in two years, as conflicts in the Middle East and elsewhere highlight the growing importance of an energy-rich region as an alternative to Russian energy.
Africa's largest oil producer and Germany's second-largest trading partner in sub-Saharan Africa is Nigeria. The trade volume between Germany and Nigeria is estimated to be about $3bn (£2.4bn) annually.
Not just from the gas and oil… but also for better use of your country's capacities, and for investing in the future, which is hydrogen," Scholz said at a joint briefing with Nigeria's President, Bola Ahmed Tinubu.
Furthermore, Mr Scholz is working with Nigeria to combat illegal migration from West Africa to Europe.
He also sought the support of Germany in tackling insecurity and turning around Nigeria's economy.