Germany migrants seven dead after vehicle crashes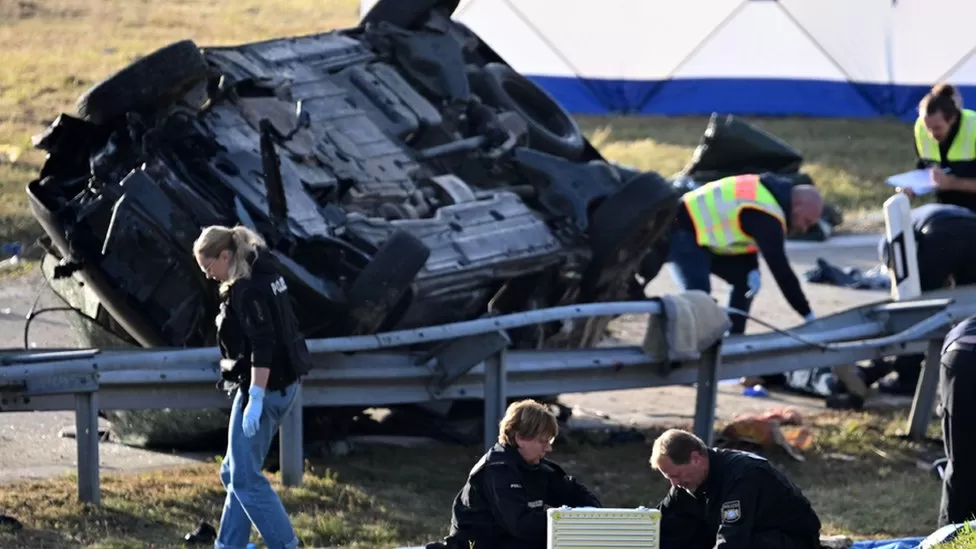 Seven people, including a child, have died after a crowded minivan driven by suspected people smugglers crashed in southern Germany.
There were 23 people in the van, which was designed to hold nine.
Authorities say the driver tried to evade police at a road check near Ampfing before losing control.
Several Central and Eastern European countries have implemented border checks in response to an increase in people smuggling.
During the early morning hours of Friday, the police attempted to intercept a Mercedes Vito van.
The driver of the vehicle, which had an Austrian license plate, accelerated to 180 kilometers per hour (112mph) before rolling several times at a junction between the Austrian border and Munich on the A94 motorway. There has been an arrest of the driver.
Several deaths were attributed to the vehicle's overcrowding, according to police. There was one child among the dead, who was six years old.
People smugglers have been involved in a number of crashes in European countries recently.
A car with French license plates that was suspected of smuggling migrants overturned in Hungary on Thursday, leaving two people dead and six injured.
About 50km from Friday's accident site, a vehicle crashed in Burghausen, on the German-Austrian border, injuring four people.
Several EU countries have increased border checks recently due to an increase in smuggling incidents, including Poland, Germany and the Czech Republic.
Several migrant crossings have been reduced as a result of the increased checks, according to Polish authorities.
People-smugglers often use the A94 motorway in south-eastern Germany to cross the border from Austria.
A tragic crash on the Bavarian border highlighted the need to strengthen border controls to prevent smugglers from entering the country, said Bavarian Interior Minister Joachim Herrmann.