Foxconn: Apple supplier drops out of $20bn India factory plan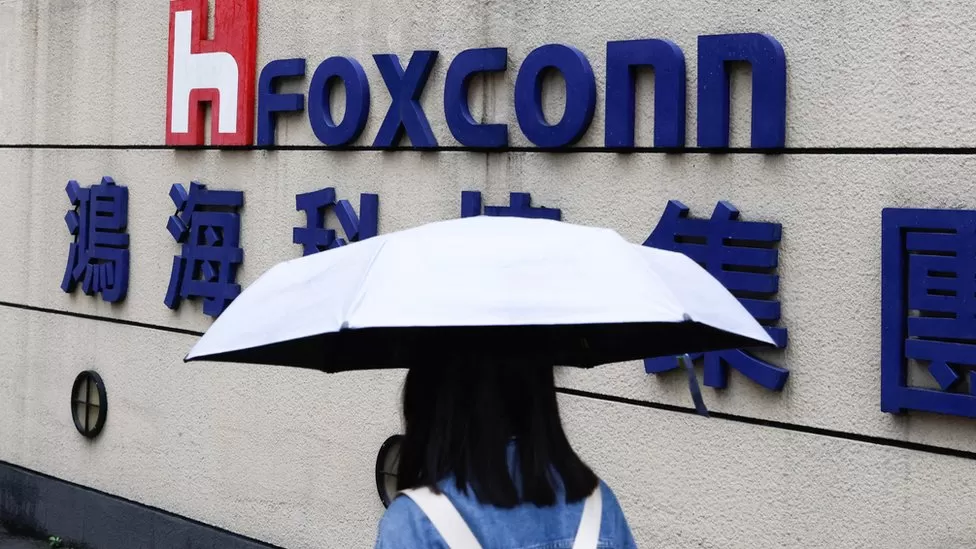 Foxconn has withdrawn from a $19.5 billion (£15.2 billion) deal with Indian mining giant Vedanta to build a chip plant there.
A year ago, the companies announced plans to build the facility in Gujarat, the home state of Prime Minister Narendra Modi.
It is seen as a setback to the nation's technology industry goals by some analysts.
The country's chip making ambitions will not be affected, says a government minister.
Foxconn, based in Taiwan, acknowledged that the project was not moving fast enough.
According to the firm, there were gaps in the project that could not be smoothly bridged, as well as external issues unrelated to it.
As Foxconn had said earlier on Tuesday, Vedanta, which has assumed full ownership of the venture, and Foxconn made the decision "mutually".
"We will continue to support the government's ambitious 'Make in India' program," it said.
It is planning to set up the first chip foundry in India with other partners, Vedanta announced on Wednesday.
The iPhone maker is shifting to automobiles as ties between the US and China deteriorate

As China dominates the mobile phone market, India targets it
"The unexpected departure of Foxconn is a setback for India's semiconductor ambitions," Paul Triolo said on the BBC.
It appears the pullout was caused by a lack of a clear technology partner and joint venture path. A large-scale semiconductor manufacturing operation was unknown to neither party.
Rajeev Chandrasekhar, India's Minister of State for Electronics and Information Technology, said on Twitter that Foxconn's decision will not affect India's semiconductor manufacturing goals.
As a result, Foxconn and Vedanta will be pursuing their respective strategies in India independently, said Mr Chandrasekhar.
In order to support the chipmaking industry, the Indian government has been developing strategies.
To become less dependent on foreign chipmakers, it created a $10bn fund last year.
India wants to become a global manufacturing hub to rival China through Prime Minister Modi's flagship 'Make in India' initiative.
The development of semiconductor factories in India has been announced by several other companies in recent years.
Micron announced last month it would invest up to $825 million in India to build a semiconductor assembly and testing facility.
In this year, Micron plans to begin construction on its Gujarat facility. There are expected to be 5,000 direct jobs created, and another 15,000 in the local area as a result of the project.