Elon Musk tells Rishi Sunak AI will put an end to work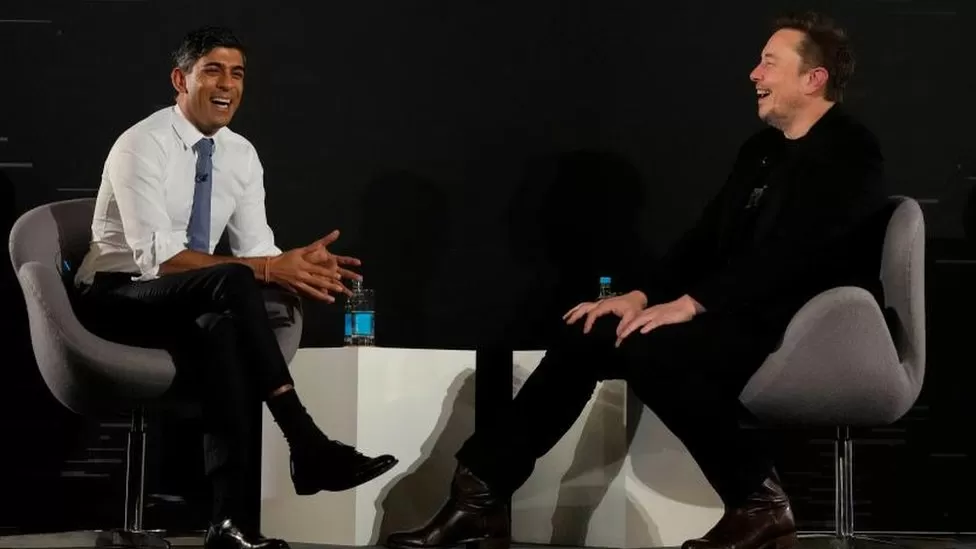 Elon Musk, the tech billionaire, has predicted that artificial intelligence will eventually eliminate jobs.
As part of this week's summit on artificial intelligence, he spoke to Prime Minister Rishi Sunak during an unusual "in conversation" session.
As part of his 50-minute interview with Mr Musk, he predicted that technology will eliminate the need for paid labor.
In addition, he warned of humanoid robots that are capable of chasing them anywhere.
During their conversation, the pair discussed how AI is transforming learning in London and how the industry is a leading hub.
It took some darker turns too, with Mr Sunak recognising the "anxiety" people feel about replacing their jobs, and they agreed that supercomputers would need a "referee" to keep them in check.
In addition to investing in artificial intelligence firms and using the technology in his driverless Tesla cars, Musk is also vocal about his fears that it may threaten human existence and society as a whole.
"There is a safety concern, especially with humanoid robots – at least a car can't chase you into a building," he said.
He replied: "You're not selling this." Mr Sunak is keen to see more investment in the UK's growing tech sector.
Mr Sunak seemed pleased to play host to this famous guest, which isn't something you see every day from the prime minister of a country.
If he seemed to be enjoying himself, it shouldn't come as a surprise – he previously lived in Silicon Valley, and his love of technology is well-documented.