CWC 2023 Pat Cummins delivers again as Australia spoil India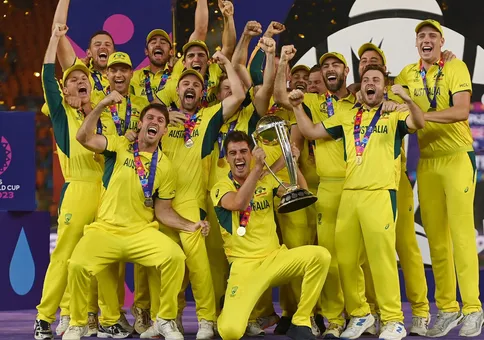 CWC 2023 Pat Cummins delivers again as Australia spoil India. Australia side completed the ultimate heist to stun India.
Tim Paine had to resign after a sex scandal when Cummins, 30, was promoted to captain by accident.
A day before his first Test as captain, he revised his fielding positions due to his hurried appointment.
But now, the calm, well-mannered captain with a business degree has made winning his business. Having achieved this triumph, Cummins joins the ranks of Australia's greatest leaders.
The Australian side has scaled many heights in the past, but Cummins' six-month run included the World Test Championship title, the Ashes retained in England and the sixth World Cup.
The headlines will focus on Travis Head's superb century – 137 runs in 120 balls in pursuit of 241 runs – but Cummins' captaincy was the catalyst for this smash and grab.
Cummins rang the changes more than any other captain at this World Cup, with 22 bowling switches.
Between overs 11 and 50, India scored only four boundaries, the fewest they have ever scored during that period in a one-day international. They were bowled out for 240 after a spin by their batters, whose rhythm had left on the flight from Mumbai.
The special thing about Cummins is that he is both a captain and a foot soldier back on the ground.
In a slow walk after collecting his cap, he gulps in air while placing his hands on his hips. He can switch from bowler to leader simultaneously.
He said pre-match on Saturday, with a grin, that there is "nothing more satisfying in sport" than hearing a big crowd go silent.
And on Sunday, Cummins took it upon himself to make sure his side experienced such satisfaction.