Cricket World Cup match goes ahead 'very unhealthy' air quality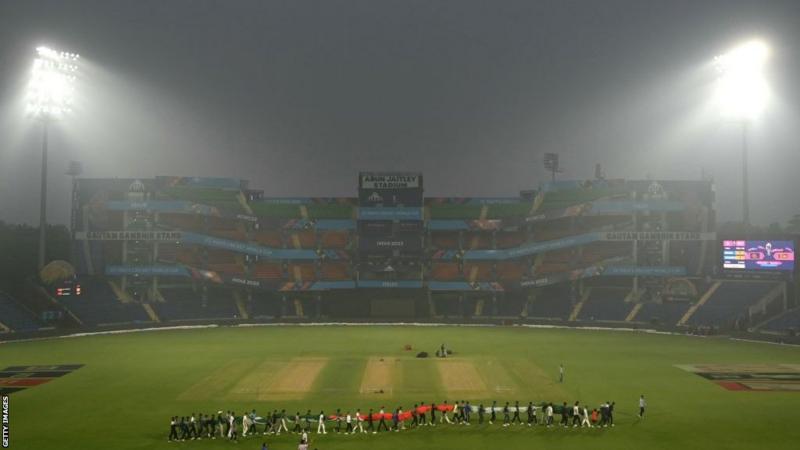 Despite poor air quality, Bangladesh and Sri Lanka played their Men's Cricket World Cup match in Delhi.
On Monday afternoon, New Delhi's air quality index (AQI) was 308 – in the "very unhealthy" range – and many schools were closed.
Playing the match with the International Cricket Council (ICC) raised safety concerns for both teams.
There were no training sessions before the match between Bangladesh and Sri Lanka.
Bangladesh managed to train over the weekend, but asthmatic players were left out of IQ Air's real-time list of the world's most polluted cities.
In the event of an AQI over 300, which is deemed hazardous by the World Health Organization (WHO), outdoor activities should be avoided.
In spite of this, independent checks found that the match could go ahead, and mitigating measures have been taken to make the conditions as safe as possible.
Water sprinklers have been installed around the grounds and air purifiers have been installed in the dressing rooms and areas for match officials.
A renowned pulmonologist, Dr Randeep Guleria, was engaged by the Board of Control for Cricket in India (BCCI) to assess the situation in Delhi ahead of Monday's game.
AQI levels within the stadium were monitored throughout the day, and have declined to levels Dr Guleria considers acceptable."
The air quality in Delhi reached close to the worst possible level of 500 last week. London's AQI on Monday was 21, in comparison.
In neighbouring farm states, crop stubble burning and lower temperatures caused air pollution to spike.
Trucks and heavy vehicles are not allowed to enter, and primary schools are closed until Friday.