Climate protesters disrupt Wimbledon match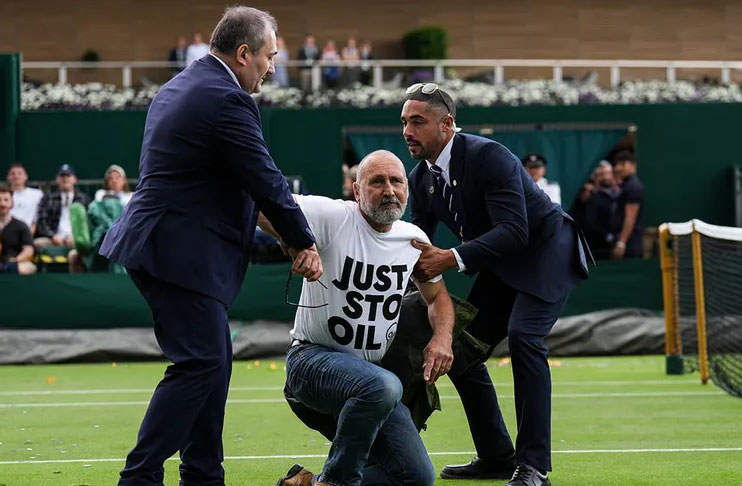 In their latest protest targeting major sporting events, climate activists disrupted a match on Wimbledon's show courts on Wednesday by throwing orange confetti and jigsaw pieces.
During Grigor Dimitrov and Sho Shimabukuro's first-round Wimbledon match, two protesters from Just Stop Oil ran onto Court 18.
An official escorted a woman away from the net while a man sat down near it and removed his jacket.
The crowd booed and jeered as one fan shouted "Get off the court.".
It has pledged not to stop protesting until the UK government ends all new oil and gas exploration.
As a result of the demonstration, the group released a statement confirming its involvement.
Supporters threw environmentally friendly orange confetti glitter and jigsaw pieces onto the court before being ejected.
There was a brief delay in play while marshals cleaned up."
In his statement, Simon Milner-Edwards, 66, said: "I'm here for my grandchildren and everyone else's."
My generation won't be left to pick up the pieces after our politicians wreck everything."
A spokesman for the All England Club said: "Following an incident on Court 18, two individuals were arrested on suspicion of aggravated trespass and criminal damage.
After a rain delay, play on the court has been temporarily suspended. Play is about to resume."
The Wimbledon police have tightened security following demonstrations elsewhere.
Just Stop Oil protesters sprayed orange powder onto the ground at Lord's during the second Ashes cricket test last week.
A similar demonstration took place at the recent English Premiership rugby final, as well as the World Snooker Championship.
It is difficult to guarantee protests won't take place, according to former world number four Tim Henman, who sits on the All England Club's board.
In an interview with the BBC, he said, "You prepare as much as you can.". "Every day is a challenge when you have 35,000 or more people at your grounds.".
The facts and where these people came from will be important for everyone to understand, but it can be frustrating.
There have been enough disruptions due to the weather. Having a disruption like that is disappointing."