Care homes and housebound get booster shots in England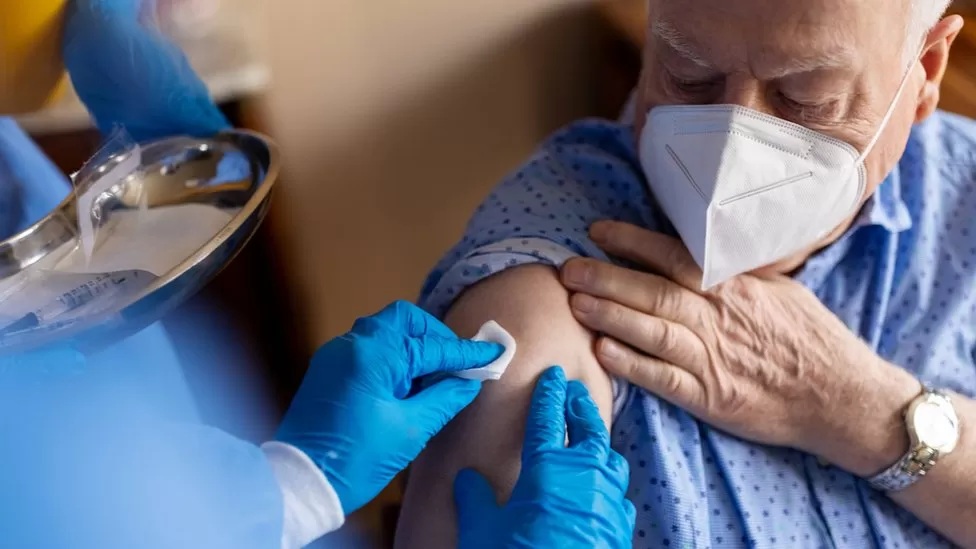 Over concerns about a highly-mutated new Covid variant spreading in England, the NHS is beginning to give booster shots of Covid and flu vaccine to older people living in care homes.
The fast-than-planned rollout, which begins on Monday, is intended to quickly boost protection for those who are most at risk.
In England, 34 cases of BA.2.86 have been confirmed, with 28 of those linked to a care home outbreak in Norfolk.
Whether it is more serious than previous variants is too early to tell.
Soon after, other eligible groups will be invited for their shots, starting with adult care homes and those who are housebound.
The booster rollout has also been pushed forward to September 1 in Scotland, Wales, and Northern Ireland.
All over-50s were offered an extra vaccine dose last autumn, but government vaccine advisers recommended this year that only those over 65 should be automatically vaccinated.
Those who are eligible will be contacted by the NHS. From 18 September, people in England can book their vaccines via the NHS website, the NHS app or by calling 119.
In the UK, several Covid vaccines are used, including those made by Pfizer-BioNTech, Moderna, and Sanofi/GSK. In order to match recent Covid variants more closely, all of them have been updated.
Covid-19 can be prevented from becoming seriously ill with the top-up dose.
Each brand protects against severe illness or death, so people are advised to take whichever brand is offered.
There is no vaccine that is 100% effective, just as there is no medicine that is 100% effective. There is still the possibility that some people may contract Coronavirus despite receiving a vaccine, but the severity of any illness should be lessened.