Canada's Northwest records its hottest temperature across country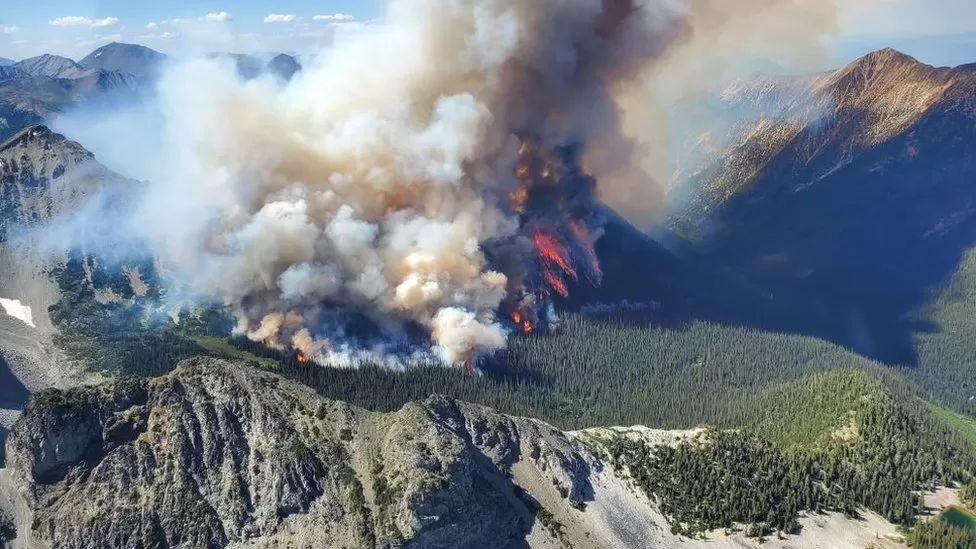 Some of the hottest days ever recorded have been recorded in Canada's northernmost regions due to an unprecedented heat wave.
Over the weekend, temperatures in the Northwest Territories exceeded previous records, according to weather experts.
Canada is experiencing the worst wildfire season in its history due to the latest extreme weather. As a result of the harmful smoke, millions have been affected.
The Earth experienced its highest temperatures ever on Thursday, according to unofficial records.
In the same week, the single-day record was surpassed twice, bringing the global average to 17.32C (63.17F).
According to Environment Canada meteorologist Jesse Wagar, Fort Good Hope in the Northwest Territories (NWT) experienced the hottest temperature ever recorded that far north.
According to Ms Wagar, the summers are becoming hotter and hotter.
Four of the five highest temperatures ever recorded in the NWT have occurred in the past eight years, she says. There were three of them in the last three summers.
According to Christopher Burt, an extreme-weather historian, the temperature in Norman Wells just south of Fort Good Hope was just 0.1C below the hottest temperature ever recorded for the near-Arctic region.
There was just one degree short of the record set in Verkhoyansk, Russia, in June 2020 at a similar latitude.
The high temperature in Norman Wells was higher than the record high temperature in a city with a latitude 1,400 miles (2,250) to its south, according to Ontario-based Weather Network.
'These temperature records aren't just sneaking by,' says Ms Wagar, adding they have broken previous records "often by several degrees."
According to her, although this latest heat wave has attracted a lot of attention, there have been some incredible temperature records set in May, June, and July in general, and those records are falling at a pretty significant rate.
The NWT has already surpassed 17 temperature records in the first nine days of July. 18 records were surpassed in July of last year. Twenty-four records were broken in June 2023, compared with four in June 2022.
Canada's north is expected to experience a cooling trend on Wednesday, according to Environment Canada. However, temperatures are expected to remain dangerously high.
Global warming is causing the Arctic to warm two to four times faster than the rest of the world, according to some experts.
Wildfire crews in Canada try to control the uncontrollable

Images and maps of smoke alerts in North America

Arctic homes are being destroyed by climate change
In the meantime, Canada's unprecedented wildfire season continues to worsen.
Officials said last week that 639 active fires are burning across Canada, 351 of which are out of control.
According to the Canadian Forest Service, an unprecedented number of residents have been forced to flee.
Over the weekend, hundreds of lightning strikes tripled the number of fires burning in British Columbia south of the NWT.
Earlier this week, the province announced that all campfires would be banned to reduce the risk of human-caused fires.