Cambodia PM threatens Facebook ban after posts ruled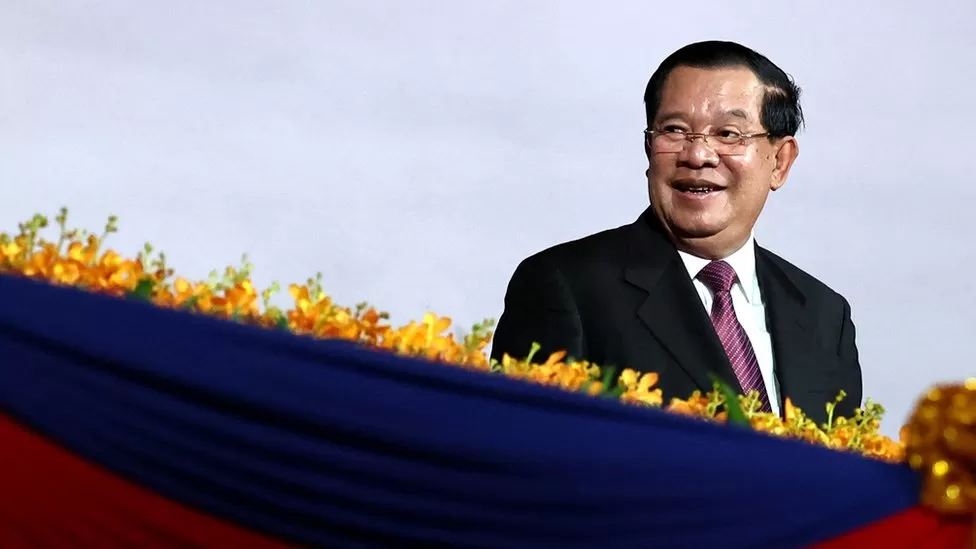 Hun Sen quit Facebook after the platform's oversight board recommended he be suspended for six months, threatening to block it in Cambodia.
A video viewed 600,000 times in January by Hun Sen called for violence against his political opponents.
It comes days before he launches a re-election campaign to extend his 38-year rule.
In addition to having 14 million followers on his Facebook page, Hun Sen was a prolific Facebook user.
He also threatened to block Facebook in the country after leaving the platform on Thursday.
In a Friday speech to garment workers in Pursat province, he warned that he could block the platform "for a short period or forever" in order to prevent exiled opposition politicians from speaking with the public.
"Don't be arrogant, you guys are staying overseas, you're using Facebook for communications, we could block Facebook," he said in comments aimed at opponents.
The Cambodian leader urged Cambodians to migrate to other social media platforms, including Telegram and TikTok.
Before he quit Facebook, Hun Sen built up a following of about 800,000 users on Telegram, a popular political channel in Cambodia. The 69-year-old leader's massive social media reach has been attributed to bots or fake accounts, according to critics.
On Thursday, Meta's Oversight Board recommended his suspension for six months for an earlier video posted in January. The court overturned Facebook's earlier decision to keep the video live, citing "newsworthiness".
As a result of the severity of the violation, Hun Sen's history of human rights violations and intimidation of political opponents, and his strategic use of social media to amplify these threats, the Board calls on Meta to suspend Hun Sen's Facebook page and Instagram account immediately."
Hun Sen threatened opposition leaders not to accuse his party of vote theft in the July elections.
Either you face legal action in court or I rally [Cambodian People's Party] members for a demonstration and beat you up," he said.
Hun Sen said he asked an assistant to delete his Facebook account shortly after the Oversight Board's decision was announced.
Hun Sen has been Cambodian Prime Minister for more than 38 years, making him one of the longest-serving leaders in the world. Aside from allegations of human rights abuses, he has also been accused of decimating all political opposition before the July election.
A lack of proper paperwork led Cambodia's electoral body to disqualify his only credible challenger, Candlelight Party.
In March, opposition leader Kem Sokha was sentenced to 27 years house arrest for treason, a charge he denies.
Sebastian Strangio, author of "Hun Sen's Cambodia", says Hun Sen's exit from Facebook is a way to prevent the suspension of the Meta board.
Cambodia's broader foreign policy pivot toward China and Russia is also reflected in Hun Sen's choice of TikTok and Telegram, Strangio told the AFP news agency.
Telegram, which is widely used by Russia's public and even the Kremlin, is the parent company of TikTok, which was founded in Beijing by ByteDance.
As a result of their track record, it is less likely that Hun Sen will be restricted from using them as he sees fit, including for baiting, goading, and threatening his opponents," Strangio said.
"Hun Sen's departure from the world's largest social media platform was a long-overdue face-off between Big Tech and a dictator," Human Rights Watch said.
As we have already seen in Cambodia far too many times, when an authoritarian uses social media to incite violence, the stakes are high," said HRW Deputy Asia Director Phil Robertson.
In Cambodia, where Facebook is seen as the main platform for e-commerce and political discussions, Hun Sen's threat to block Facebook has already sparked reactions.
One Facebook user wrote: "Blocking Facebook will worsen ties with the West. Bad officials will be happy."