At least 100 killed in blaze at wedding party in Nineveh.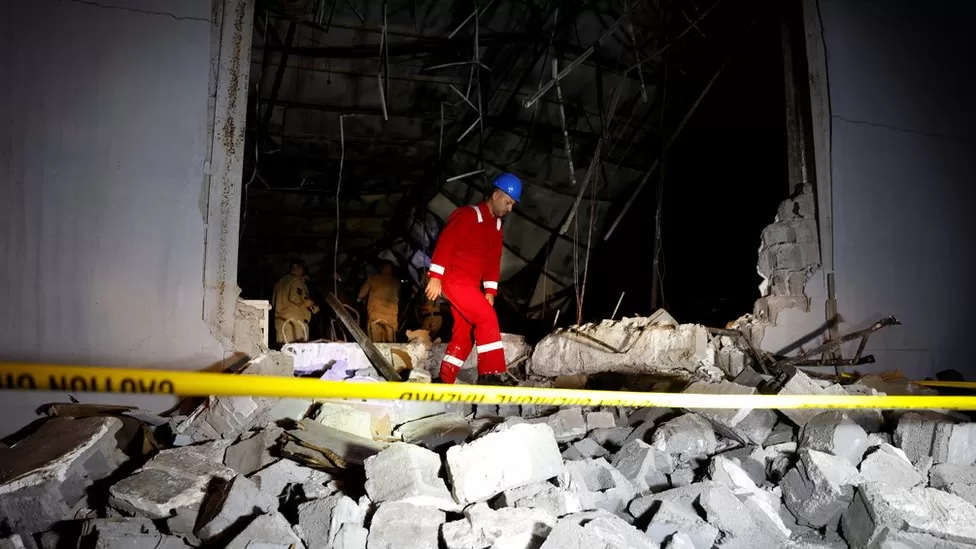 A fire broke out at a wedding in northern Iraq, killing at least 100 people and injuring 150 more.
On Tuesday evening, hundreds of people were celebrating in Qaraqosh in Iraq's northern Nineveh province when fire ravaged the venue.
The cause of the fire is unknown, but early reports indicate fireworks caused it.
A fire may have been caused by flammable panels in the venue, causing parts of the ceiling to catch fire.
INA, citing Iraq's civil defence directorate, reported that parts of the hall collapsed due to a fire caused by low-cost, highly flammable building materials.
At a press conference, a local health official confirmed that the bride and groom were among the victims.
Nina posted a photo of dozens of firefighters fighting the fire, and local journalists posted pictures of charred remains of the event hall on social media.
The building's wreckage was climbed over by firefighters on Wednesday morning in search of survivors.
On Tuesday, around 10:45 local time (19:45 GMT), hundreds of people were celebrating when the building caught fire.
"We saw the fire pulsating, coming out of the hall. Some managed to escape, but others were stuck. Those who managed to escape were broken," Imad Yohana, a 34-year-old who escaped the inferno, told Reuters.
As the bride and groom were slow dancing, "fireworks started climbing to the ceiling, the whole hall went up in flames," said Rania Waad, who suffered a burn to her hand.
The 17-year-old told news agency AFP that he couldn't see anything. Our lungs were suffocating, and we didn't know how to escape."