Who were the winners and losers?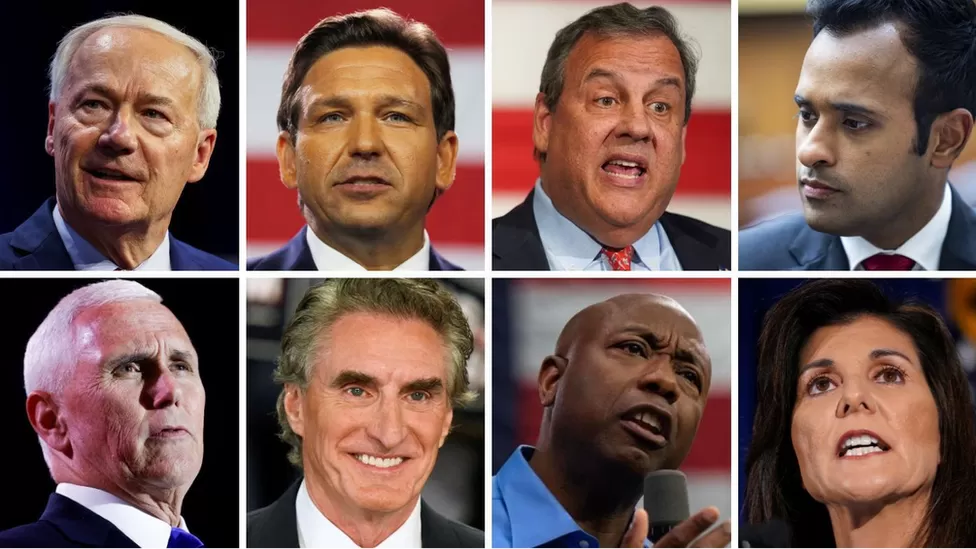 The first Republican presidential debate was a rowdy affair with heated exchanges between the eight candidates.
Some people thought it would be boring without Donald Trump – the ultimate showman – but that wasn't the case. In 2016, the former president was the life of the party during primary debates, but eight rivals proved they could bring some excitement without him.
There were some candidates who stood out from the pack, however, and others who seemed to languish in the shadows.
The winners and losers are listed below.
Despite never running for office – and never voting for a president between 2004 and 2020 – Vivek Ramaswamy dominated this Republican debate.
He was often the only candidate on the stage who seemed to be having fun, with a broad smile and a quick tongue. In part, that may be due to the fact that this political novice has exceeded expectations and is essentially playing with house money. Ramaswamy repeatedly positioned himself as the outsider against the political establishment insiders. Even within the Republican Party, many of his views – including his call for Ukraine to cede territory to Russia, his use of military force to secure the US-Mexico border, and his banning of US companies from doing business with China – are out of the mainstream. Even outrageous, impractical policy proposals can generate attention, as Mr Trump demonstrated in 2016.
Even if Ramaswamy lacks the political firepower to challenge Trump for the nomination, the evening's debate ensures he will continue to be a factor in this race.
Former congressman, governor, and vice-president Mike Pence still has some fight left in him.
His debate-stage experience served him well on Wednesday night, despite his sputtering presidential campaign – hated by Trump supporters and distrusted by Trump critics. It is a habit of Nikki Haley to surprise those who underestimate her. Even when she challenged more established Republican candidates for the South Carolina governorship, she has never lost a campaign.
As early as Wednesday night, she sharply criticized both Mr. Trump and the Republican Party as a whole. Tim Scott and Chris Christie: Mr Christie did exactly what many expected him to do. There were some choice lines that he used against Mr Ramaswamy, and he was generally feisty and combative.
The crowd also booed him when he was introduced, when he criticised Mr Trump, and when he attacked Mr Ramaswamy.
His best line was when he said the political novice "sounds like ChatGPT" – but that particular twist failed to ingratiate him.
In describing the massive US budget deficit, she said, "Republicans did this to you too." Ron DeSantis: Before the year began, the Republican nomination seemed to be a two-man contest between Mr DeSantis and Mr Trump. Since then, his poll numbers have fallen.
He may very well catch up to the rest of the Republican pack after this debate, if he hasn't already.
He had his moments, especially when he spoke about his military service and the need for more aggressive government policies to deal with the opioid epidemic. Asa Hutchinson and Doug Burgum: Former Arkansas Governor Asa Hutchinson qualified for the Milwaukee debate last. Doug Burgum paid his way onto the stage by offering $20 gift cards to anyone who donated $1 to his campaign.
Both candidates desperately needed to prove that they deserved to be there, and both were largely afterthoughts.
Mr Hutchinson's criticisms of Mr Trump seemed weak in comparison to Mr Christie's more pointed attacks. Mr Burgum's small-state conservatism never really stood out.
Next month's primary debate in California will have more rigorous qualifications, and neither candidate did enough on Wednesday night to gain the kind of support they will need to return to the stage.