What is Pakistan's homemade cable car system?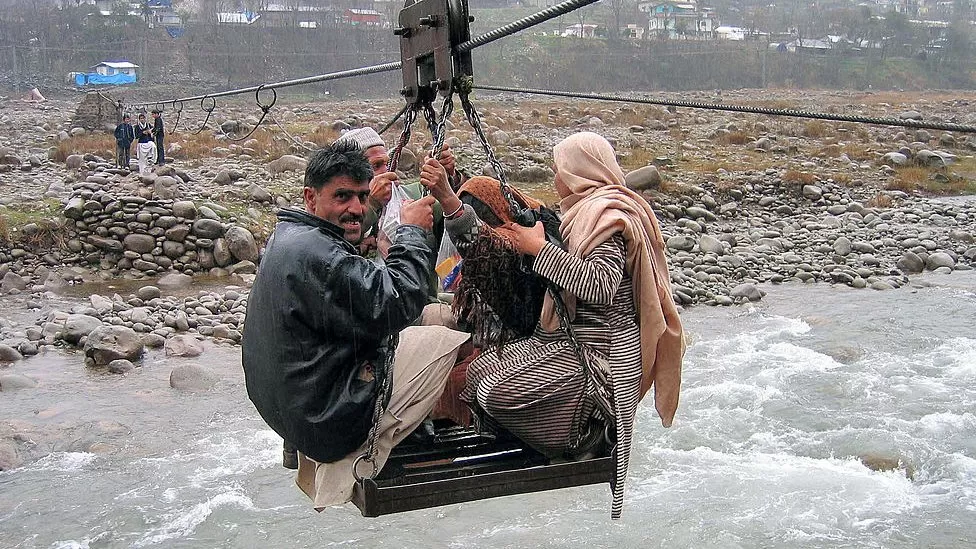 Seeing the chair lift dangling precariously at 274m (900ft) above ground is the stuff of nightmares.
However, makeshift cable cars are widely used in eastern Mansehra and Pakistan-administered Kashmir, as well as in Pakistan-administered Gilgit-Baltistan.
Due to the lack of infrastructure in the area and the distances between facilities such as schools, the cable cars are often made of scrap metal.
Local communities build them, mostly illegally, because it's cheaper and there are no alternatives.
They are sometimes made from the upper body of a pick-up truck. Suzukis, for example, can be converted into large cabins for transporting people and livestock. Ropes are then used to attach them to the cable, which can also be scrap iron.
Despite their danger, people often use them to cross rivers and travel between valleys in the mountains.
There are no basic facilities or roads in Allai – the mountainous area where the group was trapped on Tuesday.
Police confirmed to News that a local resident obtained permission from the city administration to build the cable car.
It links the village of Jangri to Batangi, where the local school is located, and is known as "Dolly" by the locals.
With the cable car, what would normally take two hours was reduced to four minutes.
Police said they checked the lift every month, but News was unable to independently verify this. Allai's cable car is also affordable, making it an appealing mode of transportation.
There is no cost difference between it and road travel, and the fare starts as low as 20 PKR (£0.053; $0.067).
A local resident, Mohabbat Shah, said residents were willing to take the risk. People trying to move around the region had no problems with these particular cars before.
The cost of a one-way trip is only 10 rupees per person. If we book a cab, it will cost us up to 2000 rupees (£18.91; $24.09).
The cable car in this case had not yet encountered any challenges, but others across the country have.
The illegal car crashed into a ravine in Murree, Punjab, killing 11 passengers.
Last December, 12 children were rescued after a rope snapped in Abbottabad, Khyber Pakhtunkhwa. The children were on their way to school when they were stranded 61m over a river until they could be rescued.
Pakistan's caretaker Prime Minister Anwaar ul Haq Kakar ordered "safety inspections of all such private chairlifts in order to ensure their safety."
For most people in the mountainous region, lifts will remain the main mode of transport without significant investments in new infrastructure.