US Supreme Court judge acknowledges paid-for trips.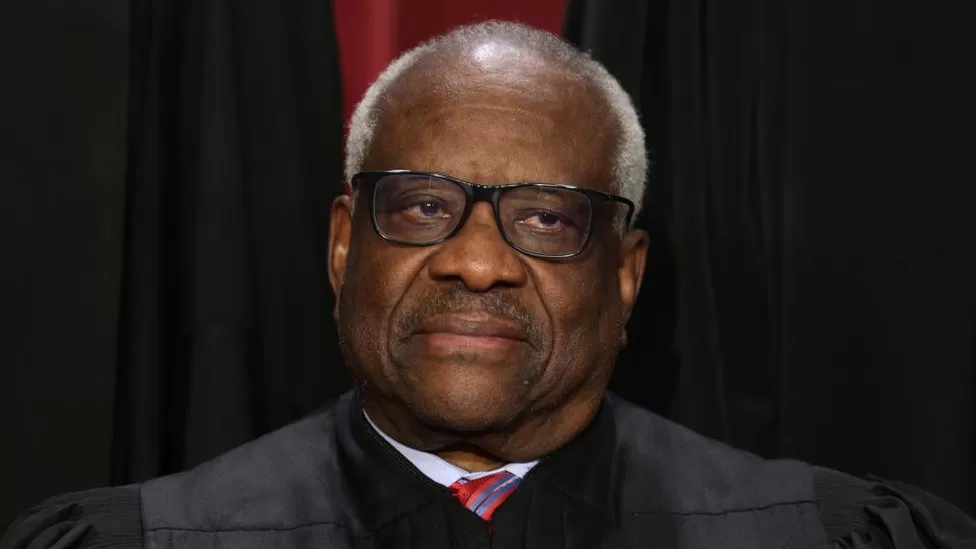 US Supreme Court Justice Clarence Thomas has acknowledged he took three trips aboard a Republican mega-donor's private plane last year, as an ethics row grips the nation's top court.
The conservative judge said failing to previously report receiving such hospitality had been "inadvertent".
Supreme Court jurists are required to file annual financial disclosure forms.
Justice Thomas was among the last to do so, but he is not the only one facing potential conflicts of interest.
Other justices, including Sonia Sotomayor, a liberal, and Samuel Alito, a conservative, have come under scrutiny in recent months.
Critics are pushing to adopt a new ethics code for the nine justices, who receive lifetime appointments to the nation's highest judicial body.
Justice Thomas' disclosure on Thursday follows US media reports that the 75-year-old had failed to disclose several expensive gifts from Harlan Crow, a wealthy real estate developer and conservative benefactor.
ProPublica, an investigative journalism non-profit, reported that Mr Crow had paid for private school tuition for a child raised by the judge, purchased the Georgia home where the judge's mother resides, and has lavished him with luxury trips for more than two decades.
Under the rules for sitting members of the US federal judiciary, a Supreme Court justice should list the "personal hospitality of any individual" as a gift.
But before Justice Thomas' disclosure report, he had reportedly failed to divulge several such gifts, raising questions over whether Mr Crow could have leveraged their friendship to influence business before the court.
Justice Thomas' attorney said in a statement that the ethics complaints stemmed from "left wing 'watchdog' groups" who were "motivated by hatred for his judicial philosophy".