Under Biden, US oil production is poised to break Trump-era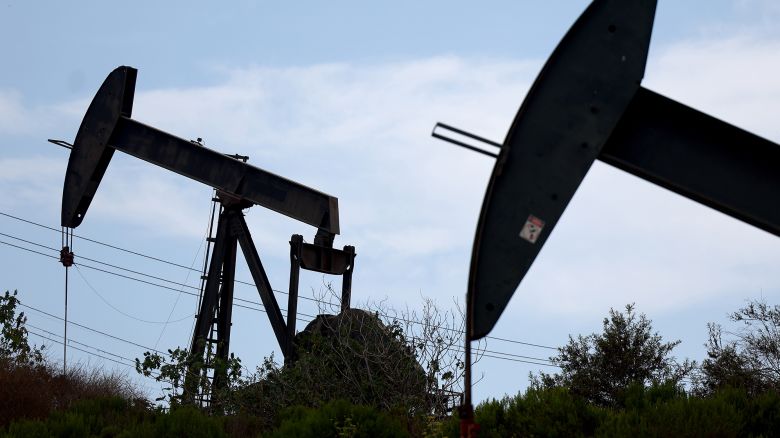 Some critics accuse President Biden of waging a war against the oil industry, which is harming consumers at the pump. On his watch, US oil production is on track to shatter all-time records set during the Trump administration.
For the first time ever, the US is expected to produce 12.8 million barrels of oil per day this year, according to federal estimates released Tuesday.
For context, that's about half a million barrels per day more than the previous annual record set in 2019. According to OPEC, Saudi Arabia produces about 10 million barrels per day, which is more than any other country on earth.
Some Republican presidential candidates in 2024 claim that the Biden administration is strangling the oil industry with red tape because of the looming milestone.
According to Hunter Kornfeind, oil market analyst at Rapidan Energy Group, there is a narrative out there that US production is dead or dying. Even though its speed is slower than it used to be, it is "maturing, it is not dead," he said.
Oil prices have rebounded from recession fears and drillers have become more efficient, so the outlook for US oil production has improved recently.
As a result of an upgrade of 200,000 barrels from its previous forecast, the US Energy Information Administration has upgraded its production forecast for 2023. It is expected that US oil production will reach another record of 13.1 million barrels per day next year.
A former Vice President, Mike Pence, vowed earlier this week that he would end Joe Biden's war on energy and reverse the "failed policies" of the Biden administration. According to the presidential candidate for 2024, new drilling will be allowed on federal land, permitting times will be halved, and the Strategic Petroleum Reserve will be replenished.
After former President Donald Trump and Vice President Pence left office, US oil production increased – when oil prices were low due to the Covid-19 emergency. US oil production is expected to reach 12.9 million barrels per day later this year, according to the EIA. In the six months since Biden took office in January 2021, that would represent a 16% increase.
Similarly, domestic oil production rose under former President Barack Obama as the US shale revolution took hold, releasing vast quantities of oil and natural gas.
There won't be any fireworks from the White House when and if the oil production record falls.
As the president has criticized the oil industry at times, the Biden administration has faced a delicate balance when it comes to the oil industry.
When gas prices spiked above $5 a gallon for the first time ever, Biden declared: "Exxon made more money than God last year."
The climate campaign that Biden ran was one of the most aggressive in the history of the US government. The fossil fuel industry must reduce its planet-warming emissions and eventually wean the world off oil, say climate scientists.
This White House is especially sensitive to spikes in gas prices since voters view pump prices as a key economic indicator.
In a note to clients earlier this month, Rapidan Energy Group mentioned that an increase in pump prices always terrifies a sitting president because it affects consumer confidence and the president's approval rating.
The officials at Biden's office are aware that the US oil companies need to increase supply steadily to meet the recovering demand.