Ukraine war: Three killed after blasts in Lutsk & Lviv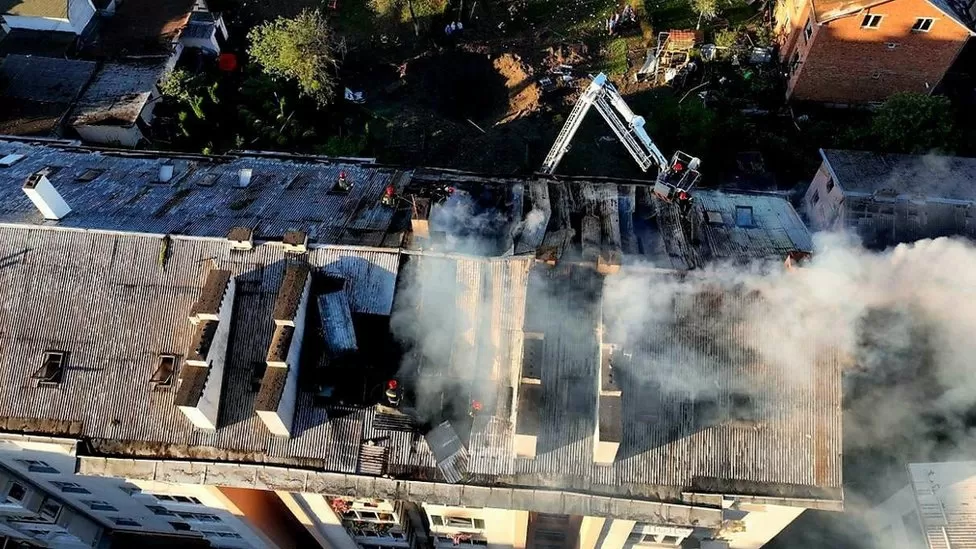 According to local officials, Russian missile attacks have killed three people in the Volyn region of north-western Ukraine.
Local head Yuriy Poguliaiko said several people were injured in a factory attack in Lutsk.
There were also air strikes in the western region of Lviv, but no deaths were reported, the city's mayor said.
A total of 16 of at least 28 missiles fired overnight by Russia were destroyed by Ukraine's air defense forces.
The sirens of air raids sounded in Lviv and Volyn for two hours.
Strikes hit a factory owned by a Swedish company in Lutsk, the capital of Volyn region.
Carl Bjernstam, SKF's company spokesman, said, "We are saddened to confirm the deaths of three of our colleagues."
A number of homes appear to have been damaged in the city, with local officials reporting that missile debris caused most of the damage.
As a result of the overnight attacks, the Mayor of Lviv, Andriy Sadovyi, said that more than 100 buildings were damaged.
The rocket hit a playground in the city, leaving a 9m (29ft 5in) deep and 20m (65ft 5in) wide crater.
According to him, four people were injured, but none were in life-threatening condition.
According to local resident Dmytro Ivaschyshyn, "the children hid in the bathroom… They were hysterical, they were shaking".
According to Oleksiy Kuleba, deputy head of Volodymyr Zelensky's office, rocket debris also damaged two farm buildings in Ivano-Frankivsk.
Overnight, a commercial building in the south-eastern region of Dnipropetrovsk was hit.
In Kramatorsk – in the eastern Donetsk region – two people were killed and another was injured, the city council said.
Strikes also targeted educational institutions, residential buildings, and medical facilities in villages in the Zaporizhzhia and Cherkasy regions.
A full-scale invasion of Ukraine was launched by Russian President Vladimir Putin in February 2022.
Ukraine's western region, which borders Nato-member Poland to the west, has typically seen fewer attacks than its eastern and southern regions.
After a Russian rocket struck an apartment building in Lviv in July, 10 people were killed and many more were injured.